A fun hobby with brother and friends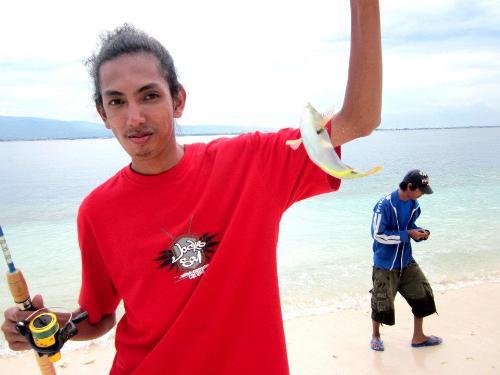 Philippines
June 3, 2012 5:48am CST
Me and my older brother, who I failed to convince to join mylot have been enjoying this new hobby for more than two months now. We find fishing really enjoyable and exciting. We usually fish in the port area near us. It is very fortunate for us that our city is beside a sea, therefore giving us many locations to fish from. We are amateurs at this but we are learning fast. We haven't really tried fishing for the tuna types yet, and we usually just catch the small and regular sizes yet, although we are planning to move up sometime soon. We noticed that there are already many people in our city getting into this hobby. Week after week we meet newer faces in the fishing areas we go. It is getting more competitive hence more fun. We have this island near our city, around 20-30 minutes travel via small boat, which for me is the best fishing site because there are just so many kinds of fish living near the coast, probably because the area is full of corals and really deep. It is a beach resort that is still under development. The island's name is Santa Cruz Island , by the way. Attached is an image of me and my catch in this said island/beach resort. Anyway, any of you guys want to share fishing stories here? I would also very much appreciate tips, being an amateur that I am. Thanks!

4 responses

• India
4 Jun 12
fishing is very fun..As my home is situated very near to a river, we used to go there for swimming.During the vacation we also doing fishing there in the river.But our fishing is by net..Usually small river fishes will got and we will fry it and will eat at night..

• United States
14 Jun 12
I enjoy fishing, but it has been a long time since I have got to go. I think that tips are best given depending on what you want to catch and I have never done a lot of fishing at the sea. I have always done lake/mountain fishing. I actually find it very relaxing.


•
3 Jun 12
Fishing is extremely fun indeed. I enjoy fishing very much and I bring along my fishing gear wherever I go to any area. It's good that your place has an island that rich of fishes. Currently I'm staying in a city where the sea is so polluted, and I can't really enjoy fishing here. Besides, I think you can try fishing at night time, you may get more different species. :)