Yearly Physicals Necessary?

Canada
June 4, 2012 4:23pm CST
My doctor keeps reminding me to get mine. I visit my doctor regularly for this or that. I also get blood work done every so many months then the rest of my physical once a year. Ive been so busy and stressed out I was suppose to get one done January, and now the earliest appointment is October. Noone else in my house (not kidding you) has gone for a physical in years. Im not sure about my Dad if he has its been years (at least 20 years), my Mom has been about 17 years (when my brother was born), my sister has never got one done in her life, neither has either of my brothers. Its not like everyone is in the clear. My doctor makes sure I get one I swear he will hunt me down because of my family history and the issues I have. My Mom at 21 / 22 years old had cervical cancer and had it removed (she never got it checked again) her mom had breast cancer, and skin cancer as well, my Dad and his side of the family has alot of colon problems, and kidney problems. Both my Dad parents died young and all his siblings have had colon problems as well as my Dad. I had to fill out this forum for my physical with the family history. I doont know details. My parents both sat there and said a physical isnt necessary and a waste of time. So I asked my sister as shes more into the family history deal than me. So I wrote down the basics and I just told the nurse I dont know the details and noone can remember.
6 responses

• Philippines
4 Jun 12
I think I am like your parents. I seldom go to doctors. I always believe that you only do that when you are not feeling well. If you're in tip-top condition I don't think there is a need to run those tests which might also have some side-effects.

• United States
4 Jun 12
This might be okay as long as there is no slow growing or fast growing cancer inside of you. Most cancers have no symptoms until later stages. So if you had colon cancer you might be okay because it grows VERY slow. But what if you have lung cancer, brain cancer or something else? A friend of mine thought he had a sinus infection. He didn't go to his regular doc, but ended up going to the ER one night. They had no reason to suspect cancer so they just wrote him a prescription for antibiotics and sinus meds. Even though he hurt he didn't go to the doc because he thought he still had a sinus infection. Suddenly one night he went blind. He went to another hospital ER and it was there he learned he had brain cancer. He didn't go regularly to the doc because he didn't have medical insurance. Even going to the doc every year doesn't mean that every serious ailment will be caught, but I feel by not going a person is playing Russian roulette with their lives.

• United States
4 Jun 12
Since your medical expenses are free there is NO excuse to not have an annual physical. Even if they went every 2 to 3 years would be better than nothing. It's totally irresponsible to neglect their health in such a profound way. Both have a history of serious medical problems. Maybe they want to be totally ignorant about their history and be totally surprised when they suddenly learn their history has come back to roost. I have insurance but I still have to pay for a percentage of my care. I still feel it is important to be proactive about my health care. I don't have the advantage of getting it free. There's just no excuse to blatantly not care enough about themselves.

• United States
4 Jun 12
Like the illness will logically go away if it is ignored?


• Canada
4 Jun 12
I know many who dont go for a physically, also maybe think once you get over 65 its necessary. My doctor recommended it when I was 15 to go and I had the worse expereimce. I didnt go for years after that I think I was 19 or 20 the next appointment. I would still go to the doctors but not for a complete physical. Lets just say the lady was of a different decent, and wasnt careing while doing the procedure I walked out in tears, and in pain. But stoky is right I think thats their view on it. My siblings have never went and I dont know why either they never go to the doctors, and cant even make their own appointment. I mean my doctor said the last visit that my sister should be at the age of getting a phsyical. Well shes 25 and Im turning 24 and he still thinks shes young as her last visit was about 15 years ago. But they say the issues I have many are passed on and many immediate family are 90% to get them. But they do the same with the dentist, and eye doctor as well. Im the only one that actually goes repeatedly every year.

• United States
5 Jun 12
I think you are smart to be proactive about your health. Maybe you want to be healthy more than the rest? I go every year. I like knowing I have improved some.

• Canada
5 Jun 12
It was on one of my yearly routine physicals that my doctor discovered I had basel cell carcinoma...skin cancer. Anybody who thinks a routine physical is a waste of time is kidding themselves. Often during a physical you can catch a disease early enough to treat it. If you wait until it starts to bother you or causes physical discomfort, often it is too late to do anything about it. I'm glad I had my routine physical and my doctor discovered my skin cancer and I was able to have it successfully removed before it had spread too far.

• Canada
6 Jun 12
Many have said the same they had something caught while it was in beginning stage. I know many around me including family and friends who have never had a physical or havent had one in years. I have gone a few times, and I do have issues because my doctors have ignored the symptoms and I keep going back. With my family history I think its important for all my siblings to get a physical but none would even make their own appointment in the end its damaging themselves. I get told constantly that Im faking it or hyper condriact.

• Canada
7 Jun 12
It's a personal choice I guess. When I was younger I never went for routine physicals. One day I got a phone call from my sister who said she had very high cholesterol and it was familial and that her doctor said that everybody in the family should get tested for it. She found this out in a routine physical. So, although I didn't go for a routine physical at the time, I did go have my cholesterol checked and yup. You guessed it. It was high and I've been on medication for it ever since. I guess it all depends on how much you value you health and how much you trust your doctor as to whether or not you go for an annual check-up.

• United States
4 Jun 12
I try and go every other year if I have time... it sounds bad that I can't make time for a doctors appt but they are a hassle to make an appt, take off of work, and so on. My mom has been going every year and it has saved her life because of catching cancer in the early stages!!! I would say every other year should be acceptable for people unless you have or had issues with cancer or other medical conditions like that.

• Canada
4 Jun 12
If you have a family history especially immediately family I would be going every year. Cant you make an appointment at a different time or after work? I know here you can make it as late in the night as 8pm and certain Saturdays. You are just making excuses and many are those who ignore their symptoms, and dont get treatment early on. If I hadnt ignored my parents and went for a physical when I was 15 my ovarian cysts would of burst.

• Malaysia
5 Jun 12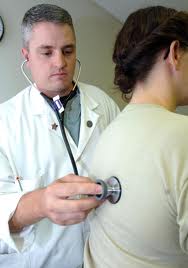 It depends , but early detection of anything is better than too late and being sorry.If there is bad cholesterol or high blood pressure , things can be done to change it like taking early medication , change of lifestyle and eating habit.HEnce no need to wait until stroke or diabetes to set in.Early detection of cancer also posibble by checking of the cancer marker presence with today technology and such.

• United States
5 Jun 12
A yearly physical may not always seem necessary to us but i think that it really is. It is how your physician can catch something life threatening before it becomes too late to turn the course. An ounce of prevention really can be worth a pound of cure.