Swimming in my secret beach...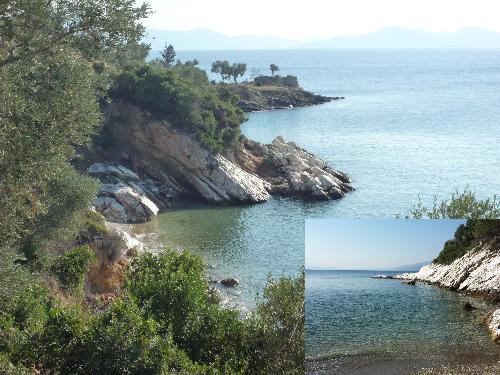 Greece
June 5, 2012 3:40pm CST
Years ago I found a great beach that is not visible from a road, so people do not go there. Only those who have small boats. I was trying to locate beaches for free camping with my (on-off) motorcycle at the time. I can't wait to go there again. There are some new houses over it now, but it is still remote.
8 responses

• Chile
5 Jun 12
It sounds like having your own paradise, KOSTAS. I think that nature that is still unpolluted is the best one can hope for. I had that expeerience when I visited Kunayala, in Panama. They are islands where you can only go by boat and the natives own them. They will not let you camp there or litter their islands. I hope this goes on like that for sometime in spite of the great predator:man.

• Philippines
6 Jun 12
I think it is so cool to have known or discovered such a place. I would definitely love to have something like that. I just have to make sure the area is safe, on and off the beach. Actually I just saw a beach that I haven't seen before yet just this noon time as I was traveling towards my fathers work place. It seemed okay and I remembered wondering what the place was before since I don't remember it to exist before. I mean, of course it was there before, just now it was turned into a resort, with cottages and all that. It was just beside the road so it was really visible. I liked it.


• Greece
6 Jun 12
I hate it when people "take over" a beach. Houses, Cafes, taverns, tables and chairs, you know.

• Greece
11 Jun 12
I agree but where there are crowds there are ugly stuff like garbage.


• Greece
11 Jun 12
If you like camping there are ways. Anywhere with beautiful nature is OK.

• Philippines
6 Jun 12
I am not that adventurous,but the picture is indeed inviting. I would like to have a swim in there too :p

• Greece
6 Jun 12
Visit Greece and you will find a lot of spots like this.

• Gold Coast, Australia
6 Jun 12
That looks like a pretty cool spot. Is there much sand there? It is hard to tell from the photos if there is or not. We have many great beaches here in Australia and with only 21 million people and close to 60,000 kilometres of coastline, there are many secluded spots to be found!


• Greece
6 Jun 12
I hope sometime I can visit Australia. The beach has little sand but is great....


• Greece
6 Jun 12
I am prepared. First aid kit. Houses are 15 minutes and a small hospital is 30 minutes away.

• United States
5 Jun 12
Your secret beach sounds like a great place, KOSTAS499. Do you camp often? Do you take the friends with you? Do you swim in the waters? Do you try to catch the fish? Do you eat the fish?

• Greece
5 Jun 12
I do everything you mentioned. Although I get bored when fishing, I like eating fish. I let others catch it for me :)

• China
11 Jun 12
A beach, few people know it, sounds like a heaven. There might be blue sea and blue sky, gracious plants, soft sands there. I am eager to go there too.