Film Double Exposure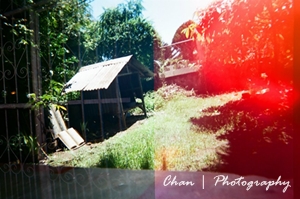 Philippines
June 6, 2012 3:20pm CST
I attempted doing double exposure on the same frame of the film but the result wasn't something that I was picturing in mind. In details, one shot was taken in the evening (the grills/gate) waited for morning, then I rolled the film backwards. Strolled a bit and looked for another subject, found it and then took another shot that morning (the dog house). The result, the double exposure was evident but it's not centered on the same frame. Maybe I'll try doing it again, and try counting so I can have it centered on the same frame. =)
1 response

• United States
6 Jun 12
Well done chan2zexy! I used to enjoy making the photograph with the double exposure. It was fun and also interesting to see how it turned out and see if it turned out like I hoped. Now I only use the digital camera. Do you know if it's possible to create this sort of photograph with the digital camera?

• Philippines
7 Jun 12
Thanks Page. =) I'll still work on the double exposure and it sure gives the wonderful feeling.=) I don't know with regular digital cameras but there is this one specific digital camera that can do double exposure. I saw it on the internet, it's being sold at Singapore at around US$100 or less. =)

• United States
7 Jun 12
Maybe if I got the digital camera with the double exposure option, I would learn how to do it really well. But then, the experimentation is half the fun!

• Philippines
8 Jun 12
Maybe you can look up Minimo-X. That's the name of the camera. I just saw it on Facebook when it was launched. It's reasonably priced. It's like taking pictures using a film camera, but being able to store it digitally. ;)