House MD, Grey's Anatomy or ER

United States
8 responses

• United States
21 Nov 06
I agree with the order you have them. ER used to be my favorite until House came along.


• United States
21 Nov 06
yes its on tonight i like it as well Thanks for the reply

• United States
21 Nov 06
I like House and Grey's alot. I think Grey's wins though cause there is more my kind of soap opera drama. House is fun cause he is always breaking the rules and he has a bad attitude but he is always right. Don't get into ER too much. It's been on too long, maybe it's time to retire that show.

• United States
21 Nov 06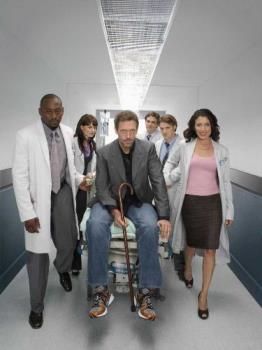 I like HOUSE, MD...i don't normally like medical drama's because my family used to watch ER all the time and i thought it was boring, but HOUSE is just so twisted and funny, even though i don't know 1/2 of what they're saying its just addicting...two thumbs up for HOUSE!!!

• Philippines
26 Dec 06
I watch both House and Grey's Anatomy, but I have to say that House is the better show. Not only does Hugh Laurie stand out as an actor, but the dialogue and story lines of House far outweigh those of Grey's Anatomy. Grey's Anatomy strikes me as a primetime soap, while House (both the show and the character) is refreshing, unique, intellectual and eccentric. So why do I watch Grey's Anatomy? McDreamy is hot.

• United States
25 Dec 06
I like House. There is something about House being as crusty as he is that is refreshing. He truly doesn't care what anybody thinks and that is very freeing. I have been a long time ER watcher, but it has seen it's better days. For a little drama and soap opera, I like Grey's Anatomy.

• Philippines
25 Dec 06
The great three. These series are the best medical series. But my favorite is Grey's Anatomy. Dr. Izzie Stevens is just being so hot... I like her

• Philippines
16 Dec 06
My sister and I can relate to these medical tv shows.It helped my sister improve her medical terminologies for her licensure exams. It also allows to critically think about the medical situation. House,MD for me is the best Medical drama series because it's funny but in the end they also get what's right.It's sometimes us get us the thrill that they have to investigate every little detail they could just to get the answers to the medical malladies that they encounter. Grey's anatomy is more on the lighter side.