All Girl's out

Legaspi, Philippines
June 9, 2012 9:37pm CST
I am waiting for my daughter as she prepares herself. We are going out for some bonding moment. It is been a long time since we go out together. I am always busy with my work so I rarely have time for her. Last Thursday, I accidentally opened the paper that she will be submitting to her teacher as one of their projects. It is about herself, maybe some form of introduction as they are starting on the second year high. There was a question there, "What was your saddest moment?" And the answer was "When my Mom has no more time for me." She is right I don't have time for her anymore so today I'll make it up to her.
7 responses

• Philippines
6 Jul 12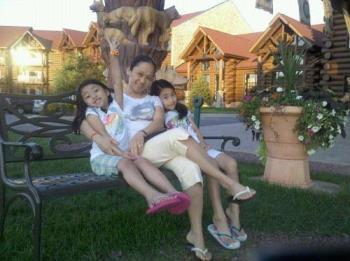 Oh yes indeed when your Mom has no more time for you then that is really sad. That is as far as your children is concerned and for a Mom the saddest thing is when your child does not want to spend time with you anymore. Is it not? So let us enjoy the moments when our children still enjoys our company. Let us give them time and the best time we could ever give it should be.



• India
10 Jun 12
That's good. Always find a nice time with our children and that makes a major difference in the minds of growing children. Normally all are busy with office, work, our-own matters, problems and so on. We never care much attention to their silly, but important requirements. And I hope we will continue to take them out, play with them, listen to them, care them - in fact they will feel proud of it and this is the best time what we can give them too....



• United States
10 Jun 12
Well, at least you aware about her needs, and wants. Yeah, making money is important, but spending sometime with your children is also important equivalently. I would suggest you balance the time and hours with your work and with your daughter. Some bonding time is great, so have a great time with her.

• United States
10 Jun 12
Mom and daughter days mean a lot to my daughter and I.we just went shopping the other day. We dont have the best relationship but I treasure these times. She spent tje day with me and cooked a meal. Enjoy your time with her.

• United States
10 Jun 12
Don't make the same mistake my mother did. My mother never made time for me. But she'd always say that she needed to spend time with me before I grew up and moved away and got married. Well, she didn't. And know she always apologizes to me telling me she's sad she never gets to see me because I live three hundred miles away. I just keep thinking of the days we could have spent together and she never did. You are only going to get one mother. Be there for her. You are her role model and she needs you.

• United States
10 Jun 12
Considering the ever evolving roles of women in the work place, it is understandable that your daughter feels emotionally neglected. Women bare more burdens than they should when it come to providing for their families. I am sure that when your daughter has her own children, she will realize what you are up against in order to provide for her and your entire family. We wish to be able to do it all: keep a clean and orderly home, raise well rounded children, be a loving and interesting spouse, being an outstanding employee or employer, all while being true to ourselves. Our families are our highest priority which means we sometimes put them second in order to stay on top of our professionsl game, allowing us to address the needs of our family. It is one big catch 22 situation. Someday she will understand and love and appreciate you for all your personal sacrifice to give her the best home life possible.

• Legaspi, Philippines
11 Jun 12
Yes that's true roberten. Actually when I accepted the job, I told my 2 children the underlying circumstances. They told me it's about time that I concentrate on my career. But when I was able to get the job, I realized how much time I had to sacrifice for this. First, I was assigned in a place far from where I lived, secondly, we were required to attend a training which we can not go home anytime we want. Now, we still have to undergo a field immersion where we can not again go home for about 3 months. There are times I feel like quitting. But I had started already. I just wanted to go with the flow but I don't know up to when I could stand.