If human life span was 40 years, how would you live your life differently?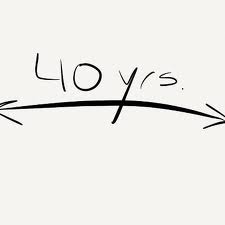 Malaysia
June 10, 2012 4:23am CST
i guess we not waste time going to 20 years of education.Instead the child is trained from birth to wat job he is doing.Married by age 10? How the world will change ? Will this drastically reduce world population overload and population? Any idea how u and the world will change if everyone life span is 40 years old now.
10 responses

• United States
11 Jun 12
Hello kukueye I only wish that we were allowed to live 40 years. In my world, we are terminated at age 30. Yes, I live in a dystopic ageist world. Every one in my world has a palm flower crystal (also called a lifeclock) embedded in our right palm. This crystal changes colour every five years, before turning black on our LastDay, that is, when we turn 30 years old. In the old days of our world, when somoene turned 30, they would report to the Sleepshop, where they were voluntarily terminated. These days, we terminate under the guise of being 'regenerated', in a process we cal, 'Carrousel', which takes place in front of the community, and in which our bodies are vaporized. I was a Deep Sleep Operative when I still lived in our Domed City. Yes, I was one of those wretched enforcers of Carrousel, and I chased many a Runner who decided that life could be lived well beyond a mere 30 years. We are more commonly referred to with the derogatory term, "Sandman." I chased many a Runner and terminated them for the good of the community. But then one day my palm crystal turned black, and I knew I had 4 years more. It was a mistake, and yet, no one would listen to me, and I was told to go to Carrousel. I refused and became a Runner myself, seeking that magical placed called Sanctuary. I now live in Sanctuary with other Runners. Many of us are waiting for the day when we can be transported to Argos, but I am satisfied here, in Sanctuary.

• Denmark
11 Jun 12
If human life span was 40 years I would have to think carefully about the things that I wanted to do. I wouldn't have time to take a second education if I regretted choosing the first one, so I had to make the right decision. I wouldn't have time to travel as much as I wanted either, and I would have to pick out a few interesting countries instead of visiting many different places. I would get pregnant early, because if I got pregnant when I was in my 30's I would die while my child was still young. I would study and work in the first part of my life, and when I was about 35 I would retire and relax the last couple of years.

• Guangzhou, China
10 Jun 12
If I can only live for 40 years, I will spend 5 years in school, 5 years to work hard, and get married at 15; the next 15 years I will run a big company with my husband; the last 5 years, we will enjoy the evening life together. I think I can live at least for 60 years in fact. In case that 20 years were cut, I will cherish every minute,not think and talk about nonsense matters,not oversleep all day, and never hate my friends for their mistakes.Those all waste too much time.Instead, I will work hard in school, start my own business earlier, and meet my Mr Right by all means and love him heartedly every second. Your question can remind people of cherishing time and do meaningful things.For some people with cancer or AIDS, they maybe can only live for 40 years or less as you said, So they seems to do more great things and be more thanksful than others. Nevertheless, no matter how long can we live, we must make a goal from birth and woek hard for it,not do useless things, and never waste time by others,right?

•
10 Jun 12
human spon of life short than naturally all matter of life is going according to new concept its natural process

• United States
11 Jun 12
I wpuld not have amy kids. I wold have more fun. I would work less and get closer to god

• Netherlands
10 Jun 12
In Afrika the life span is only about 40 - 45 years and people are not getting married earlier. Many are not even married at all since they are not able to take care of themselves. I don't think anything will change since during the middle ages many people also did not get older as 35 - 40 and there was no reason to get married earlier, to hurry up to do what you want or like. Only if you live in our world, with all the luxury, knowing what is going on elsewhere you might take the decision to do it different. But still you can only decide to do so if you have the opportunity as well and the money!

•
10 Jun 12
That is an interesting concept. The truth is that a few hundred years ago the life span probably was close to 40 and people did do things younger. I think the world would be a much different place, I dont' think anyone would go through 20+ years of school, people would probably have kids in their teens (on purpose) and the saddest part is that there would basically be no such thing as grandparents.

• United States
10 Jun 12
Hello kukueye, The first thing that caught my eye in the discussion was kids being married by age 10. Just because our life span would only consist of around 40 years, doesn't mean that children's minds and bodies would be matured enough to get married, nor would it be morally right. It would still be considered abuse! As far as college, I feel that maybe classes would be stared at an earlier age, along side with Jr. High and High school. Just because life span is cut down, doesn't mean education should be ignored, for our intelligence and wisdom is a part of being human and alive. It's also what keeps many of us alive, because without knowledge, their wouldn't be much of a reason to live, have dreams or reach out goals. We wouldn't know much about anything really. We wouldn't give our children hope and skills to experience their dreams. Parents would have no reason to ask the famous childhood question of, "What would you like ot b when you grow up?" That's very hard to even consider and even harder to stomach. Yes, we would live a little faster and work a little harder. We would still have those dreams and goals and want to live well. Atleast this is my view on the topic anyway. Thanks for a great discussion! Have fun! Be Colorful, Be You!

• United States
10 Jun 12
That would really change exactly how I intend to live my life for sure, where I would do some things rather differently for sure. Of course, given that I have not quite reached forty years yet, my life span might be forty years, because you never really know what might happen. It might less, I sure hope not but you just never know with how things are. Then again, I don't see how much would change in the eyes of the law for some people. Life spans were considered to be much shorter a few hundred years ago and the age of adult was still at the same age. I think that I would have kicked up my goals a bit sooner, perhaps really stepped up my goals sooner than I really would have in the past had the life span would have been shorter. Then again, you never truthfully know.

• India
10 Jun 12
woah! that would be an extremely different scenario , but luckily that is not the case but millenniums ago one of our earliest ancestors had to face this , They are now called the hominids and from the looks of they're fossils we, humans have evolved from them . Most of the fossils of the hominids show that none of them lived any longer than fifty years . If that was still the age limit for an alive human then I think the case would be quite the same as chips and other apes , i.e. learning on the job . I believe people would not have education and jobs separately instead every one would be put to some important task somewhat contributing to mankind so by the age 20 a man would have finished his education and will also be at the top of the career . I'm not saying I'd like it but that's the most likely possibility looking at the real life examples of living creatures with a life span of about 40 years.