a morning at the Farmer's market

United States
June 10, 2012 7:17pm CST
Had a real nice day with y granddaughter. She took e to the farmer's market It was so crowded I almost missed the one item I want to go for.

I wanted to get some of those crocheted scrubbers made with netting. They have gone up from last year. They are so nice for dishes. I also spent more money than I had meant to.

I got some nice strawberries, some very young and tender kale. It is full of vitamin K. There were artisan bakeries represented too. I love all kinds of bread and it smelled so good. So I picked up two loaves. I wished I had looked around more before I bought the ones I did.

The ones I did get are good,just wished I had seen the stall that had his bread sliced. I'm not good at slicing my bread even. So today I cleaned the strawberries and cooked the kale and was planning on making parsnip chips but got too tired with cleaning up the kitchen after the kids. The farmer;s market covered a lot more area than it did last year.
10 responses


• United States
11 Jun 12
I don't think I've heard of kale chips. I haven't watched The View in years.

• United States
11 Jun 12
Yes I have tried Kale chip.

The kale is so thin when baked for chips. any way it didn't work out for me. They just turned to dust sort of. Just looked up a recipe on the net. I think I might try them again though. http://blog.foodnetwork.com/healthyeats/2011/08/02/spotlight-recipe-kale-chips-2/

• United States
11 Jun 12
Hello deebomb Sounds like you had a great time at the Farmer's Market. Did you granddaughter have a good time as well? Of course, I have no idea how old she is, but your Discussion reminds me of when I was a child and went to the Farmer's Market with my grandparents. It was always such fun! We went all the time. I enjoy going to the Farmer's Market now that I'm a legal adult, but, unfortunately, I haven't been to one in about a year. What will you do with the Kale? How do you cook it?

• United States
11 Jun 12
Jess is 23 years old and did the driving. She appeared to enjoy the farmers market. Of course we had a treat at one of the baking stalls. My two drivers usually work on Saturday so I have to fit in their schedule for now. I cook the kale a bit like cabbage. Cook up some bacon cut into small pieces add some onions and some Worcestershire sauce then let the kale cook until tender. it seems like every thing is higher so one doesn't save as when shopping the grocery stores.

• United States
11 Jun 12
Sounds like y'all had a lot of fun. Oh, and you make kale sound appetizing!!

• United States
11 Jun 12
Farmer's markets are great! I read in another person's discussion, just a few minutes ago, that produce can be as old as 5 days by the time it reaches the grocery store. Much better to get it freshly harvested! I don't like the crowds at the market and it's only once a week here so I go directly to a local farm and buy my produce. It's no crowded and the stuff is fresh from the fields. Of course, this is a small place and there are lots of farms here while someone in a big city doesn't have easy access to farms. I'm glad you had a good time and got some great, fresh food!

• United States
11 Jun 12
Hellodragon. I have only lived here in Michigan a couple of years now. Since I don't drive any more I don't have the chance to get out and explore the country side to find farmers that sell produce from their fields. There are some farmers in the middle of the state that will bring the produce to your door. but I live too far from them. I like the idea of no crowds. The market here is only once a week too.

• United States
11 Jun 12
The farmers markets are always over crowded and sometimes over priced too. But it's better to help out a local farmer than it is to help some big ag business that's 1500mi+ away and your food is abt a week old! I've never heard of parsnip chips? What's involved in making them? Always looking for something different for the family to try.

• United States
11 Jun 12
Hello snuggle. Yes I believe it is better to pay a little more and know that you can talk to the farmer and find our how the vegetables are raised if insecticides are used or chemical fertilizers and know that they really are fresh. I haven't made the parsnip chips yet but plan to today. I saw them made on Alton Brown's show Good Eats a while back. I like fried parsnips and potato chip so decided to try these. http://www.foodnetwork.com/recipes/alton-brown/parsnip-crisps-recipe/index.htm

• Philippines
11 Jun 12
Good that you enjoy going to the farmer's market. It's been a long time since I went to a market maybe due to busyness at work.I like going to the market and see lots of things that so unusual to see by my eyes.I like buying there because stuffs are cheaper that in the groceries and supermarket at mall.I also like to see and eat different foods there.I hope I could visit the market this coming weekend.

• United States
11 Jun 12
I havenot tbeen toone in over a year. They have one in tje winter a few miles from me. The produce is so fresh tjere


• Paso Robles, California
11 Jun 12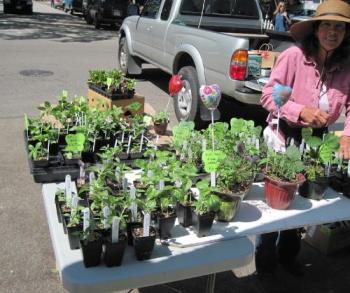 Farmers Market in Templeton on Saturday mornings is getting to be like a ritual for me. It makes me feel part of my community and I often see people I know, hear good music, and often find material to write about. I love our farmers market. The vendor in the picture is the one I like to buy my garden plants from. They always look really healthy and ready to plant, and not too leggy like many are at this time of year. I record some of the "wandering minstrels" who play for tips, and then include them in my blogs and articles. I have quite a collection now. I've written at least three articles on Squidoo about various aspects of farmers market. I love being able to taste before I buy, for example. There is a different atmosphere at each Farmers Market I've been to in this county. I like ours best because it's in the morning, it's on a weekend, and there's almost always one or two musicians providing background music. Often there's another event in the park at the same time. Often it's dog obedience classes, so all kinds of people bring their dogs. The cat shelter also brings cats that need homes, and sometimes the dog shelter brings dogs who need homes. Seasonal events such as Easter Egg hunts also happen while the market is going on.

• United States
11 Jun 12
Hello bagarad. The farmers market in your area sound like a lot of fun. There were several craft stalls but no music. There were a lot of plant venders but I only saw flowers plants and the like. I'm sure there were more but I was looking for the scrubbies and didn't pay attention to them since I wasn't buying plants. We have only the one farmers market close to us as far as I know. .

• Paso Robles, California
11 Jun 12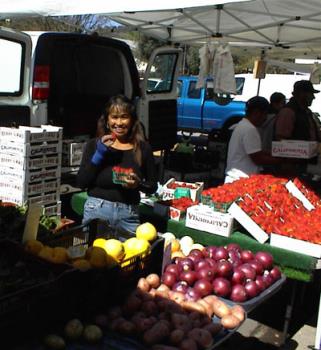 We have this one ten minutes from home. There is another on in a city 15 minutes south of us, and two in Paso Robles, also only five minutes away, but these don't have as many vendors . There are two in San Luis Obispo and several more in each of the other cities in the county, but they are too far for me to visit except occasionally. Our market has produce, crafts, honey, organic meat, baked goods, snacks, flowers -- you name it. One of my favorite vendors is pictured below. I have many pictures of her, and even some videos of her in action. Her selling style is unique. Here's one video I have of her. At the very beginning, you can also here one of the local musicians in the background . Sound like Rachael Denny, who writes her own songs. http://www.youtube.com/watch?v=80yOE7fVxHM

• United States
6 Jul 12
I love Farmer's markets! We have several we can go to throughout the week but the main one locally is at our mall parking lot. I rarely buy merchandise like craft items because they can get rather expensive, but I will take a peek at them! My kids love sampling all the fruit they have - and we're lucky if any of the food vendors pass out some of their nibbles and drinks. I love the flower prices there, that is, if I need to get flowers for anyone. Kettle Korn is also yummy, but sometimes the line for it is crazy long, so we pass on it. There used to be a sprout guy there . . . he sold various sprouts a few years ago and I just loved getting a bunch of it (great to eat raw) - but no one is selling them this year. Oh - and the kids love the entertainment .. . we always end up dancing at the corner of the Farmer's market where someone is playing their instrument.

• Bangladesh
11 Jun 12
Very descriptive is the autobiography of your shopping at farmer's market part of which is your well and woe appealing. Thanks