Something Borrowed

Philippines
June 12, 2012 10:23am CST
So, I was watching a movie with that title and I was just so into the story and I wanted to ask the opinions of those who read this. Its about a girl named Rachel who is so in-love with her close guy friend named Dex from law school but is about to get married with her best friend named Darcy! The complicated part is that Rachel found out that Dex also loved her since law school days. So, if you were in Rachel's situation, WHAT WOULD YOU DO?
6 responses

• India
25 Jun 12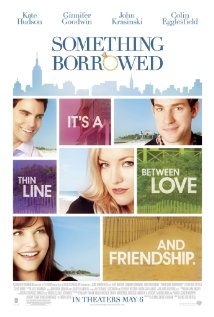 Something Borrowed is a good movie to watch and I did like the ending where Rachel & Dex got together. If was in the situation I would have no idea what to do, just see what thing happens ...


• Philippines
13 Jun 12
Yeah, I've watched that movie and found it really interesting especially with a different plot and all. I am also planning to read the book it was based from one of these days. Personal opinion about the whole movie, well, if I were in Rachel's shoes, I might not have said what I felt back then as well especially if I have seen how great our friendship had really been. For me, I value friendship a lot more than a romantic relationship. But, that's just me. Also, I would have loved it if the guy made the first move or said something first. I'm really traditional when it comes to love and relationships.

• Philippines
13 Jun 12
I've watched this movie but I forgot how the movie ended. If I were Rachel, I would confront Dex that I love him since college days and that he should marry me instead of my best friend since in the first place, Dex was in love with me and not her. As I remembered, Dex asked Rachel out once during their college days. I think, Dex was about to confess to her when Darcy dropped by their table. When Darcy asked who the guy was, Rachel told Darcy that Dex was just her friend. When Darcy knew about it, she made her way to him.Darcy just snatched him. And Dex had no choice because he was rejected by the one he truly loves. I think Rachel deserves him anyway because Darcy seems like in-lust with Dex and not in-love.

• Malaysia
13 Jun 12
I've heard about this movie but didn't know what it's all about and from the short description of the movie, it does seem like a nice movie to watch. What did Rachel do in the movie? If I were Rachel, I won't want to hurt Darcy since he's agreed to marry me. I guess Dex would just be the one that got away.

• Philippines
12 Jun 12
thank you for bringing to our attention this movie. this is what i like in mylot. i came across some news that would have missed if not for mylot. now i'd like to watch that movie. well, if i knew that a girl loved me in the college years and i loved that person too, but i was about to get married, i would proceed with my marriage with my current partner. it is not right to just go back and leave the current one.