more, more, more, more, more, more, more, more, more, more..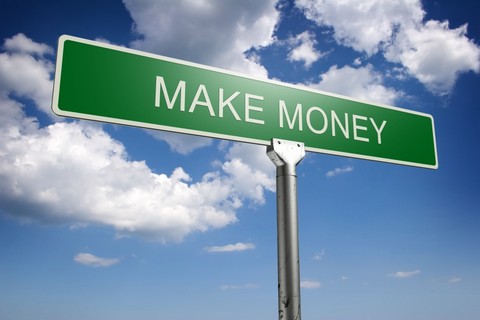 June 13, 2012 9:27am CST
Money is driving me insane. I don't have enough of it. I want more. No, I need more. And usually I can make money quite easily, through ebay, mylot, whatever.. But these days I'm struggling, really struggling, to try and come up with a way to make money. I had thought of a part time job, but I wouldn't have the time, I work full-time already and the only time I'd have free would be evenings and weekends, and they usually want you to start at 6 and I only finish my full time job at 5.30pm. I'd thought about selling things, altering clothes etc, but I need the capital to begin with. And I know practically all ways to make money online are scams.. So I'm beat. I think I will have to try and live within my means.. my means that need more lol. What do you think of this?
7 responses

• Japan
13 Jun 12
Same feeling I've been having lately. Money,money and more money lol. Knowing the fact that I am preoccupied with households, the kids and my job, still I want to fill a few hours for myself. And that few hours I want to be productive while enjoying. Don't worry it's our basic necessities everyone of us needs money.

•
13 Jun 12
I don't even have kids though lol.. so I can't even use that as an excuse lol!

• United States
13 Jun 12
O.k., you don't have kids but you can still get a loan or a small grant being a young single woman. Like I said, try writing a business plan and getting a loan, you never know. Or look around for a place with cheap rent. You are ahead of the game with a full time job as many don't even have that.

•
14 Jun 12
Aw that was very nice of you to give me that little boost of confidence. I do have a full-time job, and I managing somewhat ok. There are people a lot worse off than me.. I guess that's the way of the world though, some people are better off, some are worse.

• Philippines
13 Jun 12
Oh me too! I need a capital to start what i would like to do. In fact i'm even thinking of baking pastries and sell it at my son's school. I just want to earn more, more and more and like you, couldn't think of ways to do that except sell something. And i need a capital too. So i'm actually planning to bake some cheesecake and send it to my son's school, give it away to his friends and their parents and see what they think of it before actually putting up for sale in the market. And i know i need to start soon.

•
13 Jun 12
Thats a fantastic idea, and I hope it goes well for you.. but to be honest it wouldn't work well over here. The whole cupcake craze has taken the UK and everywhere you turn there are stalls in markets, and shops selling cupcakes. In Belfast, where I am from, town centre alone there are 5 cupcake shops that I know of, and about 50 bakeries! .. so it wouldn't work well. I think I may need to ask my mum and dad to loan me the capital to start something good, on the basis that I will pay them back slowly even if I don't suceed!

• United States
13 Jun 12
That's a good idea. But I would start the business, hire someone to stay there to work it to get it off the ground while still working your full time job. If you really need money I would keep E bay but dump my lot as you are not getting more than a few cents here for a lot of time. Also try E bid and Craigslist. If you are a single mom there are special loans you can get as well. Try writing up a business plan. They have books on it in the library. Keep your chin up, you sound like you have a lot of ambition and energy.

•
14 Jun 12
Oh I don't really use Mylot to make money, I actually really enjoy Mylot. I'm a very social person and when I'm stuck in work all day I like to be able to talk to people and Mylot is a great way of doing that, whilst earning a little. I'm not a single mum, but I have looked into your idea of a business plan and have found a programme to help with that!

• Australia
14 Jun 12
You and me both. I'm sure a lot of us feel the same way. It will be good to share as much info on online sites that work. I only just joined MyLot yesterday so we will see how I go here. Just wondering do you like to write articles? Me personally I'm a procrastinator and am not really great at writing but there is a site called Hubpages where you can make some money. If you make a lot of articles and they are popular and getting visits you should be able to make a bit of money everyday like you would on here. As an example I make about 10 - 20 cents a day but I only get about 30 views on my 14 articles a day. A few days ago, I don't know how but I got over 120 views and made about 53 cents that day. So imagine if you had 50 articles and made a few hundred views a day that would still be a few $ a day and could lead to an extra $50 a month in your pocket. Some others might have better exp with Hubpages on here but hope this was useful.


• Australia
16 Jun 12
You're welcome for the advice :) Of course thank you, I appreciate any tips people can give me on how to make it easier. That is really useful. Right now I am going through all the MyLot emails that have come through. I'll have to get into a pattern so I don't miss a thing. I accepted your friend request. When I have some time I'll sit here and add more to my interests and find some like minded friends to add. Thanks again for the help! :)


•
14 Jun 12
But if I sell things, some day I'll have nothing left lol!

• United States
14 Jun 12
I think money is something that we can never have enough of. People earning 100k income wants to be millionaires and owners of big companies wants to continue to make more profit. I think ebay and mylot are great ways to earn some extra cash but we shouldn't spend so much time on it that it cuts into other aspects of our lives.

•
14 Jun 12
I think you are right.. everyone wants more. When I look at people who have less than me I think I'm very fortunate.. but then I look at people with more, and I'm disappointed with my life.


•
22 Jun 12
It ishard and I wish I could suggest a miracle but, I guess then I wouldn't be on here either! Lol Wouldn't it be nice to win the lottery - that euromillions was so huge the other week that 27 of us at work went in and if we had won there still would have been 3mill each which is still more than the normal lottery sometimes!!