Bottle Brush (Callistemon) in full bloom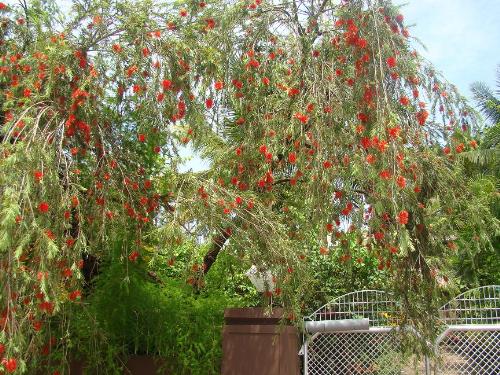 India
June 16, 2012 3:48am CST
How much time do you spend admiring your tree that is in full bloom a tree that blooms only twice or thrice a year? My Bottle Brush (Callistemon) is in full bloom now and I must have talked about it over the phone with countless of my family and friends. I have uploaded an image on FB. I have taken video clips and pictures of this wondereful vision. Here is one for you to admire.
4 responses


• St. Cloud, Florida
15 Nov 15
I actually sell the seeds from this plant on online auction sites. I got them from a tree at a local lakefront park. People love them and they are so pretty. Such a unique plant.

• India
15 Nov 15
I must watch out next time I get flowers. I never knew there would be seeds.

• St. Cloud, Florida
16 Nov 15
@allknowing
Yes they are all over the place hanging off the tree. They are stuck to the branches after the flowers fall off.

• India
17 Nov 15


• Canada
16 Jun 12


As you will see by my comment on your photo...I am undeniably, over-the-top jealous! What a superb specimen...and elegance to your landscape! Just wondering how mature that beauty is? We are in the midst of "record setting" for the coldest June since 1952, and my Butterfly Bush refuses to set blooms! BRRR!


• India
16 Jun 12
Its about 18 years old and what you see is just one third of the glory. It has never bloomed so profusely in all these years although blooms have always been there twice or thrice in a year. I cannot take my eyes off it perga... It is just near my gate and adds dignity to my property.

• India
16 Jun 12
Coldest since 1952!! Must be quite an experience perga.. with all those woollies round you. And what is this butterfly bush you are talking about. How does it look?

• Canada
16 Jun 12

I know what you mean...my Butterfly Bush (Buddleia-Davidii) is about 20 feet from the main door of my house...my inspiration every time I go out the door! Seems my world is incomplete without it blooming!

A link for reference only; www.daytonnurseries.com/Encyclopedia/Perennials/Buddleia.htm There you will find the species of Buddleia...I have the Davidii, but it looks somewhat like your bottle brush with it's long sweeping, elegant branches, with a pannacle of 6-8" flowers adorning each branch!




• India
19 Jun 12
I have very few people in my life who can spare time for nature and I do wish that situation changed as nature has enough that one can find nowhere else.