The Perfect Combination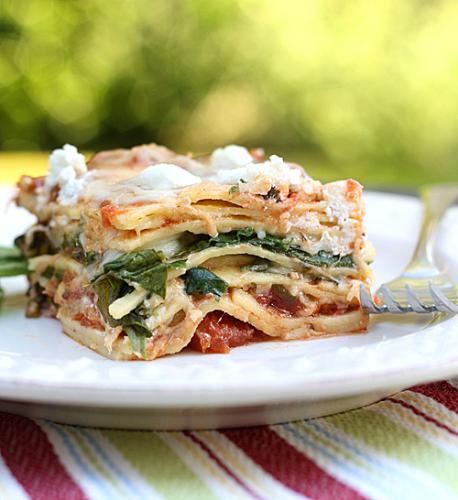 United States
June 16, 2012 5:26am CST
I have only ever had one type of lasagna, once. It was a spinach and cheese lasagna. But since then, the restaurant where I had it took it off the menu. And now I am looking for the perfect combination of vegetables for lasagna [I am a pure vegetarian]. I love the spinach and cheese combination in almost everything, be it lasagna, pies or dumplings. But what other combination is really good? It is mushrooms and eggplant? Potato and something else? Mushroom and spinach? Please give your suggestion. The lasagna available in the restaurant in my city [one only restaurant has this dish in its menu], is a vegetable lasagna. That is very vague and I do not want to spoil my love for lasagna with some imitation of it. Therefore I am going to attempt to make it at home. Please give your suggestions. I have noticed that for vegetable lasagnas, spinach is a big favorite. Is that true?
3 responses

• United States
20 Jun 12
helloi kkaria! the psychoartist is an avid fan of lasagna of all types...i have had a lovely one with chicken, cheese and spinach, but i understand you would not be interested in the chicken...i have only had that one and the traditional cheese and red meat sauce...i think you could be creative and develop your own with your favorite vegetables and sauces cheeses, maybe even eggs and cheese...the possibilites are endless!

• United States
21 Jun 12
I think I will come up with something of my own too. I would go with spinach, mushrooms and 2-3 types of cheeses.

• United States
20 Jun 12
You can put just about anything in a lasagna. At home, I generally do layers of pasta, ricotta and mozzarella cheese, sauce and meat (usually a combination of ground beef and italian sausage). That's the preference of my family. If you're wanting less meat, more veggie, spinach is a very popular option. Anytime you see "florentine" on the menu or as the name of a dish, it means spinach. Most lasagna florentines I've had contained spinach, chopped carrots and chopped broccoli. Do you prefer a white sauce (bechamel) or a tomato sauce? It makes a difference. Most vegetarian lasagnas are made with the bechamel in my experience. It's ok, but I prefer tomato sauce on my lasagna. Mushrooms are good, so's eggplant, but I'd leave out eggplant unless you're using eggplant slices in place of noodles.

• United States
20 Jun 12
Oh how helpful. I love tomato sauce in the lasagna, and mushrooms are good for me too. Eggplant is kind of a no-no.

• Philippines
16 Jun 12
Hi friend! You must have had problems with your internet connection resulting to have a double post. http://www.mylot.com/w/discussions/2669221.aspx


• United States
16 Jun 12
Yes, I did. But mylot does not allow us to delete our posts, right? So I couldn't correct what happened. Haas this ever happened to you?