What happened to the Tulfo-Santiago Clash?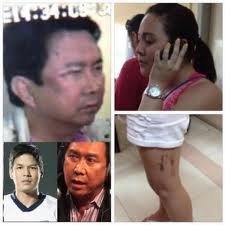 Philippines
June 18, 2012 11:14am CST
I haven't heard anything regarding the Tulfo-Santiago clash that happened on the first part of May in NAIA Terminal 3. The Santiago's already denied the 2nd video wherein they stated that it was already edited. Now its already 3rd week of June and there's no report anymore. I think both parties already made up silently outside the court. Do you think its already been taken care of and settled outside the court?
4 responses

• Philippines
19 Jun 12
Hello. I heard from the news that Mon Tulfo and his defense team filed another case to the couple. I don't exactly know if its attempted homicide or murder. Or something like that. I think it we will hear about it if they will settle out of court. It will be big news for sure

• Philippines
19 Jun 12
That other case is insane and has no proof, the people he fought it only wanted to beat him up not kill him. the court prefers it quiet since they both wanted privacy, i hope this doesn't happens again. if they bring out their own worse in this scenario, how much more if it's ordinary people. they should remain as role models no matter what.




• Philippines
19 Jun 12
Yes, I believe that being a public figure means they should be role models because they became role models whether they like it or not. I thing Mr. Tulfo is really mad at the couple. I think the couple too are the one who made mistake.

• Calgary, Alberta
18 Jun 12
Its either the Court wanted a news blackout regardless of this case because both parties wanted privacy or it has been settled down and both camps goes into an agreement. those are the 2 possible reasons why the controversy is losing heat...but hey I think yesterday it is updated in TV patrol. Maybe because the news program you watch is from GMA.

• Philippines
19 Jun 12
They both wanted to settle this privately because even though it's not a scandal, it was still embarrassing to the public and something that needed not to be talk about. am sure a lot of people prefer to watch and listen to other news like solving the economy and gettng more jobs out there. Have a nice day




• Quezon City, Philippines
25 Jun 12
Well I guess now that it is filed already. Both parties will be mum about their cases as anything they could leak in the media might incriminate them legally. So I guess you would not hear from both parties anymore. Expect to have noise when an agreement or a judgement will be given on this case. But for now, that the case is filed on the courts both parties will be more careful with what they will tell in public.

• Philippines
19 Jun 12
Hello freymind, i don't even want to remember of my reaction to what happened in that case. they are both public figures and should have act accordingly. however, the airline has it's fault since their liability or imcompetence has brought the negative sides of both of these parties, sad to know it had to end this way.