I washed our rockers yesterday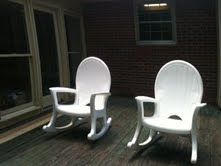 United States
June 19, 2012 1:57pm CST
So, S's uncle gave us the rockers that we used at the other house. He said he didn't want them. They were covered in pollen and they could never get as pretty and white as they are now because we didn't have an outside hose pipe. Now we do and it has lots of pressure. I soaped them down with Dawn dish detergent and sprayed them off and they look so pretty and white. I was enjoying sitting out last night drinking my tea. I'll really enjoy them here. I can't go out until after 3 pm though because the sun gets me and I burn really quickly. The medicine I'm on doesn't mix with the sun and I break out with white blisters. I saw them blistering under the skin last night and ran in before the blisters would come to the top. They are white now like scars. I can feel the fluid under the skin. They don't hurt. Anyway, these are our chairs... so comfy! What type of outdoor furniture do you have? Do you sit out and enjoy the evening air?
8 responses

• United States
19 Jun 12
I only have a white yard table under my bed. I have not used it in years. But,the place I am moving to has space big enough for it wen or if I have a party. I like how white these chairs got. dawn is good for all house hold cleaning..

• Garden Grove, California
19 Jun 12
hi gifts I also love dawn and its not hard on my hands like some dish soaps and it works on dirty messes too. I wondered if others also shared my liking. its gentle yet it really does wo rk too. I tried palmolive and it made my hands sore but dawn does not do that.




• United States
19 Jun 12
Hi gifts and Aunti! I love Dawn too, because it lifts the dirt off the dishes in no time. I use it to soak my dishes in before putting them in the dishwasher. They are really already clean without me even washing them by hand... usually. I got a gallon of Polmolive for $2 at the dollar general... I hope it works as well as Dawn.

• United States
19 Jun 12
That's so awesome! You took something that someone else didn't want due to it's condition, and you made them beautiful again! What a great restoration project! :) They look brand new and really comfy. I usually just sit on the porch or stand to enjoy the sun. Or I go out for a nice car ride with the windows and sunroof down.

• United States
19 Jun 12
Sounds like a great way to enjoy the days at your house. I would love riding around... when I was young and in love we used to run around with the top down in an Impala.. that was so much fun back then.

• Australia
28 Jun 12
I have a bench seat in the garden and several chairs and a table on the front patio. I also have a cane 2 seater lounge in amongst all the plants on the front patio. We have extremes in temperatures here so my plants on the verandah are protected from the heat and the frosts. It's looking lovely. I have a little table and a plastic chair under a tree where I sit to work sometimes and it's just peaceful, cool or warm and wonderful.

• United States
28 Jun 12
Oh MsTickle, your garden sounds wonderful and inviting! I wish I could see it! I can imagine what it looks like by your description. Thanks so much for sharing that. We have about an acre of trees. There was a yard swing in among the trees before we got this house, but the people selling it took it or sold it in the estate sale they had before we moved in. I would love to put a yard swing out there. I can just imagine how cool it would be there in the shade of the trees. If you have a laptop you could go cordless with wifi out there on your table and enjoy mylotting out there. I would love that. I've not worked with mine outside because we don't have a picnic table yet for our patio. When we do, I might just take my laptop out there.

• Lippstadt, Germany
20 Jun 12
hi dear PQ I admire you for all this hard work you put into making the new place such a wonderful home for you and your family. It has been raining here today so I did some indoor jobs. Hope the weather will be better in August when I have two weeks off work and not only one week so I hope to enjoy the balcony more. We only have simple plastic chairs for the balcony but thats good enough for us as the balcony isnt that big.

• United States
28 Jun 12
Lucky you, RitterSport for getting 2 weeks off in August. SIL has a week off in August but they can't go anywhere due to low finances. This house takes everything, so we have to all be careful. I was noticing the other day I will need to come out and clean those chairs again.. mostly I just need to get a whisk broom to sweep them off.. the stuff from the trees fall or get blown into the chairs. I might just spray them down again. My daughter has to get me the hose because I can't step over the rocks (rock garden) to get to the lower place to get the hose. There are like two step like levels of land that get down to where the hose pipe is. This house is a split level home, with a basement at the base of the basin.. it's like the house is built on a hill.. the front is at the high level and the back is made at the bottom of the hill.

• Canada
20 Jun 12
I just have a house chair that I put outside to sit on, I don't have much of a balcony where I am and I won't have a much bigger one where I move.

• United States
20 Jun 12
We had these chairs at the old house, on the porch. There just wasn't a good way to actually clean them at the time. Now that Uncle R actually gave them to us to have here, there is a hose with great water pressure here. I can't get the hose because it is down past the rock garden and I can't step down over it. Our back yard is made in tiers and each tear is lined with rocks. It's really pretty, but impossible for me to get down there to get the hose. My daughter got it for me and I did the chairs up right. Sorry that you don't have a porch or patio to enjoy. I would love to have a grill for ours. Even if it is on our other deck by the back door.

• Holiday, Florida
19 Jun 12
wow what a great job. i love those. we have these big old plastic lawn chairs that arent to uncomfortable but not as nice as yours there. the dang grown kids in this house claims its to hot to sit out back. but the truth is they just to lazy to go there and smoke. insisting on the garage. but to me its hotter in there. sometimes i dont think these people are all there in the head.

anyway, i love your chairs thats elegant.


• United States
19 Jun 12
It probably is hotter in your garage. I am really enjoying this. I'm out here now. The sun is off at an angle and not hitting me directly. Shoot. Wish it reclined; I'd put a pillow and blanket out here and lay out here all night and enjoy the stars.


• United States
19 Jun 12
Hi Pose! That's the best time to go for a walk.. in the evening. I like going after 7 PM. It is up in the 90s here in the day.

• Garden Grove, California
19 Jun 12
i pointlessquestions here at gold crest we h ave benches in front of the big building and a back patio with chairs and benches under pretty large trees. also a table with huge coffe urn and cups. that coffee is ugh gross as it sits and simmers black as sin and strong as sin. we h ave nicely landscaped trees and shrubs in front of the building over the benches. Also there is a nest up on the roof with four baby birdies and I doubt if a ny one but me has noticed that. too set in their ways to just look arou nd and enjoy nature. I too h av e to wait till the hottest part of the day is over to go out as I bu rn badly due to my two diabetic medications and the fact that I am so very fair also I am anemic with white white skin even though I do take an iron pill every day.your chairs are really pretty. the benches have iron seats bu t the chairs on the back patio are really \comfortable but elderly too.when I was a teen I was photosensitve and broke out in big white welts when I was in the sun too long. I out grew this but the welts subsided and left white spots on my skin like white freckles on a tanned arm. looks a bit weird but are mostley gone now.

• United States
19 Jun 12
Hi Aunti, I've got white patches all over my arms from yesterday. They are indented now as the fluid must be absorbing back into my body. I hope the white spots will go away. I would hate for them to stay there. I'm sure it's medicine that is doing this... I can't tolerate even 10 minutes in the sun.