What kind of dog do you think this is?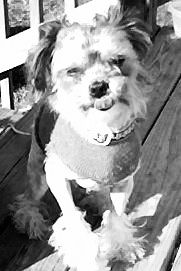 United States
5 responses


• United States
27 Nov 06
no she is not hairless she was in such a shape had to have her groomed she got shaved

• United States
4 Dec 06
I groom dogs as a living .I beleive chances are there is some shih tzu in there maybe schuazer ,but is could also be a shih tzu and poodle cross as they look simular .Is the hair corse in texture or a softer cotton like .If she/he has shnauzer it well be slightly corse with some soft hair also .If she/he is poodle shih tzu is well be all soft . they might be a few breeds there too cute dog any way

• United States
4 Dec 06
Her father was a peek a poo. Her mother was a shih tzu.

• United States
4 Dec 06
Well I was close she has poodle and shih tzu in there I dd not see the peek but with mixes it is hard to tell . I am sure she is a great dog either way . take care