A Divine Appointment Brings Us New Friends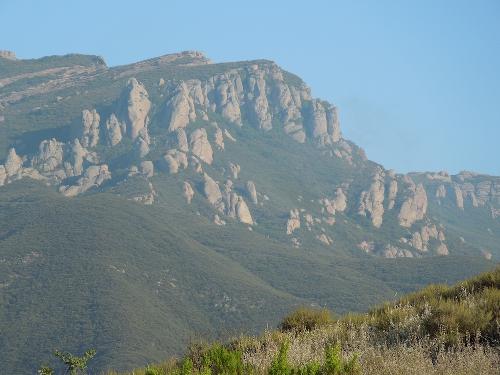 Paso Robles, California
June 21, 2012 4:00pm CST
Many of you know we just took an anniversary trip. The plan was to relax on Tuesday night in our motel room and then I and my friend would tour the World Gardens in Thousand Oaks while our husbands spent time together in their home before we came back and we all had lunch. On Tuesday night we decided on the way to Simi Valley that we would stop in our old neighborhood in Newbury Park so I could photograph Old Boney Mountain, which is in Point Magu State Park. We hadn't been to the park in almost 20 years, but we used to hike there often, before and after we adopted our children. All the pictures I took with my 45 MM camera have faded, and I thought I might like to write about those times and about Point Magu State Park. But we'd kind of forgotten where we used to walk in. We parked where we used to, on the street, and saw a road that seemed to lead to the park. As we were looking at the sign where you entered the road, we weren't sure whether it was public or not. At that moment a woman with a black lab approached, and we started asking her. She said it did lead to the trails and we began to walk along with her. Then her husband caught up with us and since my husband is a bit slower, the two husbands lagged behind and we walked faster with the dog. As we talked, I and S discovered we had a lot in common and knew some of the same people, even though she moved to the area after we had left. Our husbands were also discovering common interests. On the walk we saw a lot of animals and birds -- rabbits, a raccoon, and at least four different kinds of birds. When I could zoom in on a rabbit or bird with my camera, I'd snap a still picture and then when I wanted it to move so I could get the bird in flight on video, or the rabbit jumping or running, S would bring the dog closer to the subject of my photo after I was focused and make the animal or bird move. We couldn't photograph the raccoon that was coming down the trail toward us because as we got about 50 feet from it, it ran into the brush. We had a great walk, and I think none of us wanted to break up the time together when it was getting dark and the men were getting tired. I had some banana bread in the car and offered to share it. They invited us to their home a block from where our car was parked. It was then I found that although it was 8:30, they hadn't eaten yet. She invited us to stay for dinner, which she began to fix. By 9:30 we were eating, and we didn't break up our time together until eleven. We had discovered we were all Christians and had both homeschooled. G, S's husband, liked to take pictures of nature, as I do. By the end of our evening together we felt like friends who had known each other a long time and we were amazed at the way God brought us together. We plan to keep in touch. They happen to love Paso Robles wine country and come here often, so we hope to entertain them in the fall. We didn't get into our motel room in Simi Valley until about 11:30. I'm attaching a closeup-of Old Boney Mountain. It looked a bit faded because of the zoom lens. Other pictures taken on the hike can be seen in the comments on my discussion on my 48th anniversary trip I posted Monday or Tuesday, before I left.
6 responses

• United States
27 Jun 12
Nice!!! Things happen just like that. And it is nice to meet people that have the same interests and know lots of the same things about the place you used to live. Thats how friends are made. Me on the other hand, I like to keep people at bey. I am friendly, but given what happened to me with the evil ex and the people she brought into our life who helped her become corrupt, I tend to not trust anyone. So even though I can hang out with people I will never open up to let them into my life 100 percent. But I am happy for you and your husband. Oh and by the way I love the photo.


• United States
6 Jul 12
I have never heard of those books but they do sound interesting. But I will say that I am the type that listens and watches. I like to take in as much information as possible. And another thing about me is that I tend to see the negative before I see the positive. I find that to be an asset. Then I can make a better assessment of the person or persons. I am not a heartless person, although some people think I am. Maybe it's how I present myself. But I like to be guarded. I am all for having fun, but not all the time. I pick up on things quickly when it comes to people and I am sure you have encountered someone in your life that you meet that you get a strange vibe from, someone that, right off the bat, you just don't like. That has happened to me in my life. And with my evil ex, well I guess I was fooled. She turned out to be the person I didn't think she was. But now with my new girl friend I am happy.

• Lippstadt, Germany
22 Jun 12
hi bagarad that was an extra blessing on your special trip and I am so happy for you. Things like this happen sometimes. Its great and encouraging to read such stories....

• Paso Robles, California
22 Jun 12
It indeed was a blessing. We are now connected on Facebook. I couldn't find S by looking, but did find her husband. When I got to her page to try to connect, I saw that her friend request was already pending, so I confirmed. She and her husband hope to come our direction in the fall, so I expect we will see them them.

• Lippstadt, Germany
22 Jun 12
hi dear bagarad I guess you will have a super time and will love catching up with each other then.


• Paso Robles, California
22 Jun 12
It's not the naval base. It's the state park between Highway 1 and Newbury Park. Yipes! I did misspell it. Thanks for pointing that out. I'd better correct the name before I write about it. For our kids' birthday parties we would walk them all down to the beach at Sycamore Cove through the park. It was an eight-mile walk. Of course, we didn't take that trail Tuesday night.


• Paso Robles, California
22 Jun 12
That he was. Now I'm trying to figure out what He means to do with this relationship. He must have had a reason for bringing it about, since none of our three mutual FB friends ever thought to introduce us. Of course, we don't see them anymore in person, either, so how could they?


• Paso Robles, California
22 Jun 12
It was really strange. Ordinarily we would have asked directions and gone our separate way. I was a bit ahead of my husband and she was a bit ahead of hers, so we just kept talking and it felt right. When we turned to see our husbands, they caught up and we introduced each other. Then we somehow just kept walking together with husbands behind and we even took a separate and harder path my husband would not have been able to handle. I didn't have to walk alone to get the exercise I needed, and I knew that my husband was not walking alone. I'm sure if anyone was not enjoying the conversations someone would have made an excuse to get away.

• Philippines
22 Jun 12
What a great way to spend your anniversary. Nothing is more satisfying than finding out that you have a lot of common interests with your friends. I love spending times with friends and having long chats with them. I just wish I had the time. Congratulations on your 48th anniversary. Nice to hear that you had enjoyed your day.