Dolphy's condition - end of an Era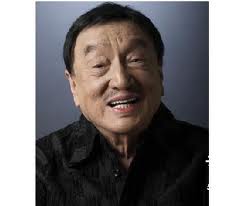 Philippines
June 21, 2012 8:04pm CST
Hello Lotters, I think every one should wake up that our Local celebrities Dolphy Quizon is in medical troublesome, because simply he is OLD. nothing can stop that. though a lot has prayed for his recovery, we all know that we will hit the dust one day. I wonder why they didn't feel the same for Red ford white, Max Albarado, Babalu, and other comedians who onces lived for our industry. Well, Let's still hope and pray that he recovers. i think they should retire him if hey want him to stay alive longer..he's done so much for the comedian industry, the should have given him the artistic award.


10 responses

• Philippines
23 Jun 12
If the discussion is about "the end of an era" then I would surely agree with you my friend, even if he recovers, he and it would never be the same again. He is simply
irreplaceable
, of course other comedians will rise up to that level in the future but they have to think of another style cause Dolphy is Dolphy, the same way the Michael Jackson era ended, lots of people can also dance well but they have to think of another style that would make them rise up and stand out and never copy what has been or is already a legend in his or her own right.


• Philippines
24 Jun 12
Hello

Louievill, It's sad that am witnessing this and some how i felt i may never see the light of teh day were you see something unique and that is Dolphy. Indeed, Micheal Jackson was unique and a true inspiration to the black people who have been successful to date. I wish people would remember dolphy in the years to come. i wonder, if they had remember teh same like with Nida Blanca



• Philippines
24 Jun 12
Well Nida went before her time, she had a little more years for her if she was not murdered by that freak, and how about Rogelio de la Rosa, Luis Gonzales, Nestor De Villa. Pugo and Tugo etc.... so many pillars of the entertainment industry, hope they would all be remembered too and somebody would be kind enough to put up a museum for them all of them.

• Calgary, Alberta
22 Jun 12
eventhough he is playboy and he is a father of multiple children to different mothers we cant deny that he is not a bad father. yeah he have a son who had been in prison but he is not ashamed of any of his children and grandchildren. he is proud of all of them and he acknowledges all of them, he help them to have a career in the showbiz industry. he built a Dynasty of award winning actors and singers out of his children. He have a long legacy and career. He is in good terms with his exwives and all of his children loves him. The entertainment industry as a whole loves him and see him as an legend.

• Philippines
24 Jun 12
Hello CaptainALbert, He was a Playboy like Erap, no wonder they were so related when it comes to that. even though Erap is action star and Dolphy is Comedy King they both made to the industry i think. he's proud of them alright and what they have accomplished now. even though if he passes away no one will forget this man.



• Calgary, Alberta
24 Jun 12
he should be a role model for Asian American men (I know he is not American) because currently Asian American men are struggling to get women,they were at the bottom of the dating totem pole.

• Philippines
22 Jun 12
and what i heard from the news on the radio is: more and more Filipinos are rooting Dolphy, the Philippines's King of Comedy, to be named as a NATIONAL ARTIST as he still remains in critical conditional. recently, a party-list named Akap Bata urged the National Commission on Culture and the Arts and the Palace to give the award to the Comedy King. and to go with the flow, several politicians joined the cause. should we really push for a campaign just because someone is dying? honestly, Dolphy should have received that prestigious award years ago. losing to Carlo J. Caparas for the award is a big big joke. many had been awarded but are they really deserving to receive it? as for the other artists you mentioned not having the same treatment, well, my guess is, because not many film fans appreciate them more than Dolphy. but i agree those of the likes of Panchito deserves to be treated equal to the other REAL National Artists. just my opinion.

• Philippines
22 Jun 12
Hello Nadrolski, It's politics, even in the entertainment and artistic industry has it's own politics and interest. it's unfortunate that dolphy had to endure his suffering just to be known and push for him being a National Artist. but i gotta admit, no lives forever, so this guy better be known national artist before he hits the dust




• Philippines
22 Jun 12
@nadoski
and letran I want to assume that even giving awards and recognition has a also a form of politicking and influence. As you said, there are many ho are more worthy than others but the award and recognition does not exactly and can't speak for itself. I would like to think that all those worthy should be recognize but I admit those who deserved it (but not yet worthy in the eyes of these giving bodies) as they prove themselves more than worthy by not demanding it for themselves. That takes a high amount of nobility that some lack.


• Philippines
1 Jul 12
Hello Mspitot,he made us all laughed from his jokes, even though you thought to some of them as freaking boring.but he will remain the king of the comedy and there will be no one that can attest to that or even match his jokes. despite of him being a womanizer, i think his jokes got the appeal to a lot of women in his time




• Quezon City, Philippines
25 Jun 12
Well it happens that Dolphy is one unique individual that has surpassed many trials in life. Being one of the biggest celebrity that has achieved many things in life. It is hard to really let go until it is really there. As we can see in the reports that he still is trying to get back. But I guess you are right in saying we all will hit the dust at some point in time. And Dolphy is in such a situation. I guess that is the natural reaction of being a family member never give up until the day that the body really gave up already. In their situation, it looks like they have enough resources to spend to prolong the life and maybe prayers work for him.

• Philippines
22 Jun 12
Sorry to say that Dolphy's case is progressive and no remedy. What the doctors are doing now is just prolonging his life. But ofcourse I wish that he will still be well. We in the family like him so much and even thought of him as we know him. My father, who doesn't like local or foreign movies, like him. Maybe because they are of the same age. I don't know the criteria of Artistic Award but I think Dolphy deserves it second to Nora Aunor. Dolphy's most films made us laugh and count his other TV shows liek John en Marsha

• Philippines
24 Jun 12
Hello Bluespygirl, I guess so, when it comes to getting old every thing that was once working is just dying out. and it's starting on his vital organs. I don't if i can trust the committee since there's more of a criticism and politics in that department. he made a lot of contribution equal or better than Carlo J Caparaz.




• Philippines
22 Jun 12
People i believe reacted differently to him because he was above par than those you have mentioned i believe. He was greater than them in my opinion, he created a difference in the Philippine cinema.. i hope he gets to have the rest he deserves, he looks so tired now..


• Philippines
24 Jun 12
Hello Jazel_juan, because he made jokes better i believe but the supporting actors did a lot good too. otherwise, Dolphywould never been known the best with out the supporting actors and actresses. he did it for us and am sure he will rest accomplished his goals in the entertainment industry.



• Philippines
22 Jun 12
dear LK, Aw, yah, I have read the news and it's been on the headlines since the comedy king was admitted to MDC. The award giving body should have given the award when he is still a bit healthy and mobile. What's the use of awarding him on his dying bed....duh...

• Philippines
24 Jun 12
Hello Jaiho-sis, It's sad that he's finally about to hit the dust in this stage of his live. he should have retired and rest instead of just continue his work. he could have done theatrical here i believe. well, it's very important to Dolphy so i guess they should do something about it, this is something that should have been given to him long ago




• Philippines
22 Jun 12
I agree with you, the Comedy King is really old and must take the rest. He had done so many good things with his family and the showbiz industry. He deserves the National Artist award more than anyone else now. They should give that prior to his hospitalization and now that he is in a critical condition.

• Philippines
24 Jun 12
Hello Shylade, I think some of his kids are still depending on him that's why he works so hard. not to mention he has lot of children from different women out there. I think this is something tht would should protest on so that he will given the recognizition that he saw fit. I hope people will learn to love him and remember his jokes




• Philippines
4 Jul 12
Maybe that is because Dolphy is the comedy king while those other comedians doesn't have a king title with them. But, yes we should be praying for him since he is a good man and he has gave us many years of laughter. I believe he is getter better now, the power of prayer is really the best thing in the world.