Which tyes of accommodation would you happily stay in?

United Kingdom
June 23, 2012 9:18am CST
One of my friends goes to stay in a caravan every summer for one week. She says is is economical and fun for her kids. She showed me a brochure showing all the caravans. It in are also some wooden lodges in the countryside. Would you choose a caravan by the sea or a lodge in the countryside? If not which would be your type of accommodation. Most of all I like to stay in guest houses and unusual accommodations. Have you stayed anywhere that you have really enjoyed? I loved staying in a tree house in Belize.
11 responses

• Adelaide, Australia
23 Jun 12
I like staying in caravan parks the most. Just a simple cabin there & I'm pretty happy. For the money, it's about the best you can get here, unless the weather is looking really nice & money is an issue, then I'd pitch a tent. Good, simple living close to the earth's natural energies is a great way to spend our lives - even better than in my own bed! Earthing ourselves is also a good way to recharge every day. Along with that goes the lifestyle of cutting your own firewood, bushwalking, etc. One other type of accomodation I've also liked staying at was an all-inclusive Vegan Bed & Breakfast place in New Zealand. There was nothing to worry about or prepare for then, as everything was taken care of & so there was more time for sight-seeing. There was one in Christchurch (called English Park) & one in Nelson, but I cannot seem to find them online anymore - maybe they have had a name change? Which is your preferred type of accomodation? What sorts of unusual accomodation have you stayed in?

• United Kingdom
26 Jun 12
Thanks for your excellent response. I would love to stay at the vegan bed and breakfast in New Zealand. It would be perfect for my really strict vegan diet. I went to Nelson in New Zealand and then went camping along the Abel Tasman walkway. Wow! Most of all I loved staying on that walk at a tiny campsite overlooking the beach with a maximum of 5 tents allowed. The usual accommodation includes a flat roof in Jordan, a train carriage that says still in South Africa, a ship that stays still in Sweden, that tree house in Belize and a castle in Germany that is a youth hostel that I have stayed in. I love guest houses that have a cheap price, a self catering house or apartment or something unusual like a tree house.




• Adelaide, Australia
26 Jun 12
Ahh! I have located some more information about them: http://au.totaltravel.yahoo.com/listing/574035/new-zealand/south-island/christchurch-alps/christchurch/english-park-eco/ Also the first listing here: http://www.greatbedandbreakfast.com/breakfast/bed-breakfast-bnb.php/bbID/471 There is another "sister accomodation" just like it in Nelson that I have not been to, but hear it is every bit as good. I don't think I've been to Nelson before. I took the train west from Christchurch to Graymouth, bypassing Nelson. I hear it is a beautiful place to be.


• India
23 Jun 12
Hi Maxine, to stay in a caravan or in a tree house is very interesting. I watched these type of traveling in movie. But to me very expensive.

• United States
23 Jun 12
I love staying in different types of accomodations. I love staying in upgraded suites with lots of rooms, balconies, and special amenities. lol. I also enjoy basic beach houses. I am open to most adventures though prefer not to stay in a tent and sleep on the hard ground! The treehouse sounds amazing!

• United Kingdom
26 Jun 12
I think that an upgraded suite sounds very luxury like. A balcony sounds desirable to me. I fancy staying in a beach house. I know what you mean about the hard floor being uncomfortable in a tent. Yes, the tree house was a special place to stay that I will always remember with happiness.




• Chile
23 Jun 12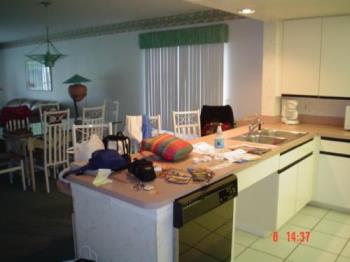 I was always picky as to where to stay because I need very good bathrooms and nice beds. As for other things, I don´t mind. Now I also need a kitchen if possible, as I´m sure it is less expensive to stay in a very good apartment and cook instead of staying in a cheap hotel and have to eat out. Now that I´m old, I have these timeshares and I can stay excellent places for a reasonable amount of money, specially since I share them with friends. I´m sending you a picture I took of the resort where I stayed in Orlando years ago. I even had the visit of a hurricane, but this was a safe place.

• United Kingdom
26 Jun 12
I like the picture of the accommodation in Orlando. Even though that area was touched by a hurricane you thankfully stayed safe. I know what you mean about the convenience of having a kitchen so you can self cater. Eating out can be more pricey than sensibly shopping at a supermarket. I loved that supermarket called Jumbo that you showed me. Fantastic. Your time share accommodations sound excellent.




• United States
23 Jun 12
I never been to a caravan, and I won't be too picky about where I am staying at. As long as it is clean, sleep - able, and I won't be bothered by anything else while I need my rest. A bed, some basic necessities in an accommodation will be perfect for me. I plan on traveling other countries, but I just haven't found the time yet.

• United States
23 Jun 12
Caravans tend to keep together and away from anything else, hence you find caravan parks in the middle of nowhere. This is a definite downside of caravan holidays. I prefer bed & breakfast places normally, although I have had a lot of fun in Youth Hostels.

• United Kingdom
26 Jun 12
I know what you mean about caravans typically being in the middle of nowhere. Where I live is a coastal town with vacation accommodation. In town are hotels and guest houses. One road has many bed and breakfast establishments. In Sand bay are a few caravan sites and it is a rural village. Yes, when a young person youth hostels are great fun.


•
1 Jul 12
I do like hotels and lodges but, I am not keen on caravans - I don't like how cramped they always feel and even the luxury ones to me are jut not doing it for me!! Give me a hotel over caravan any day! Lol I do like villas near the sea too where a group of you can stay and have your on space to do BBQ's thing like that!



• India
24 Jun 12
I would like to stay in a house which satisfy my needs. First of the housed must be clean and tidy. I believe that a clean and a they house is very important so that my mind can relax and enjoy the things. Secondaly the house should have a proper bathroom with water at all the time. Really i should have a good simple home. This is what i need.

• Malaysia
24 Jun 12
Hi maximax8, it depends on where I'm going to have the vacation as well as who I'm going to spend the holidays with. I like to pick caravan if spending the holidays with my husband and son. It's so relaxed and comfortable for us to have a night or more whenever we come across any site that is worth to spend our time there. There lodges available here in many organic farms. They look comfortable and hygiene and attractive located near the farm where the environment is tranquil amongst the natural greens. Healthy and delicious organic meals and drinks are served there. Quite convenient eh! I would like to have a short stay together with my loved one there to experience the authentic peaceful life which I long for

I would like to spend my happy vacation together with my three sibling families in a department. Yeah, I'm really happy that my brother in law had booked two unit apartments for our family gathering in the coming Friday. The building is located near the popular beach here. It would be really excited and joyous to have my close and dear ones having fun in all kinds of outdoor activities at the beach in day time, whereas we could get along together having fun chatting, eating, drinking and playing games together in the big sitting room in either apartment in night time

Happy posting