score!

United States
June 24, 2012 2:53pm CST
I am so excited and so thrilled that I had to share this with my MyLot friends. Some of you may find it boring or one of those "so what" type things, but for me it is very very exciting! I have been looking for a new old sewing machine to use for making the teddy bears. Nothing beats the old Singers for doing the heavy duty sewing. I was going to buy a 1940 - 50's Singer that was listed on Craig's list for $50. It is in excellent condition with all the decorative decals still in great condition, so I would be heartsick over using it as hard as I use a sewing machine. I have been looking for one that was well taken care of and used the way sewing machines are supposed to be used. I had one that an acquaintance spotted and told me that it was in excellent condition and that it was just what I was looking for. I bought it without looking at it, which was a bad mistake. It turned out to be horribly rusted, the case was broken down, the wiring was cracked and exposed. It would have cost me over $200 to get it into working condition. I ended up giving it to a sewing shop that repairs machines. Yesterday after dropping off my fair entries, we went to a trading day at the local park. Trading day is where people can bring their old stuff to sell or trade. I wandered through looking for stuff for my businesses. Old jewelry, fur coats, stuff that I could get at a price that I could put into the shop to resell. I wasn't having much luck. I found a jewelry aromoir that would have been great for all my jewelry...I had one but gave it to my frienemy. She had it for two weeks and ended up giving it to her cousin.

She big dealed me like crazy for the thing, nagging nearly non stop about when I was ready to give it up she wanted it. Looking back, she only wanted it so she could give it to her cousin and make points there. The person who had the jewelry aromoir wanted too much money for it...so I passed it up. Onward I wandered. I stopped at one booth that had a case and an old 1950's toaster sitting off to one side. There was a "FREE" sign there and as I bent down to see what was in the case the woman who had the booth came up and told me that it was for free. I lifted off the top of the case and found a 1961 Singer sewing machine!!! For FREE!!!! I checked and it had a zig zag foot and one bobbin so I figured what the heck and I took it along with the toaster. I hauled them back to the car, amazed at how much the sewing machine weighed. I plopped both items in the back of the wagon and went back to find other treasures. There wasn't too much there, so Bill and I went on to other pursuits. We got home and I was anxious to check out the sewing machine. I took the cover off and was astounded to find a box with all the accessories for the machine! Score!!! I tentatively reached to the wall plug to plug the machine in. NO sparks, which was a good sign. I then pressed on the foot peddle and it worked!!! BIG SCORE!! I worked on the machine for about 45 minutes, lubricating all the moving parts. It was obvious that the machine hadn't been used for many many years. The more I lubricated the better it ran. I went online to find a manufacturing date, and scored the owners manual for free! Then I found out that the machine was manufactured in 1961, which was before the time that Singer had started using plastic parts in their machines. So, I now have the work machine I need for no cost to me! As for the Toastmaster toaster, it works too! I only need to open it up and do a thorough cleaning and it will be ready to go. I plan to put it into my booth space at the shop for retro addicts. To many people this is a very boring find. But with the savings in time, gas and money, this find is so very very exciting. Plus the machine not only straight stitches but it also zig zags and more. I am so excited about the machine and being able to do a better job on the teddy bears. Has anyone else scored big time (at least to them) recently????
8 responses

• United States
25 Jun 12
Wow...

Next time, I want to go with you, that is a fantastic deal you got...

If only you lived closer though...

Because I am getting ready to ask for a sewing machine on freecycle because I think my son may have bent the tension and I can't straighten it out..:'( Right when I needed it the most, when I found a really cute nightgown that needs minor sewing and though I could possibly hand sew it, since I hurt my wrist, I can't see pushing a needle through fabric right now...

• United States
25 Jun 12
We need to set up a time to talk. I may be able to help you out with the sewing machine. If not, I will watch for a machine for you and hopefully can find you one at a good price. The Singer was a real fluke, and the people didn't know what they had when they gave it to me. It's a shame that I don't live closer because I could provide you with a machine (the Singer I got Sunday was my fifth machine in the collection.) or fix the one you have. Anyhow this week is a bit busy, I have Tuesday off to recover from Stanford and then Wednesday I go to the pain doctor. Friday is payday and I need to get animal food (and people food too). I am trying to pull it to the forefront of my mind about the tension. If it is the tension wire that guides the thread, it isn't any biggie. But if your son was rough enough to bend a spring tension wire then he could have knocked the tension adjustment out of alignment. That is a very easy fix. I'll explain it to you as soon as I am able to be on the phone for more than a few minutes. Do you use the machine much? What kind of sewing do you do? If you do heavy duty sewing you need a different machine than you would for finer sewing. I better crawl in bed, I need to get up earlier tomorrow morning (I slept really late today because I was so tired from getting stuff ready for the fair) we're leaving at 9:30 so that we have enough time to get to Stanford (it's a five hour drive). Hugs and Love! LB

• United States
25 Jun 12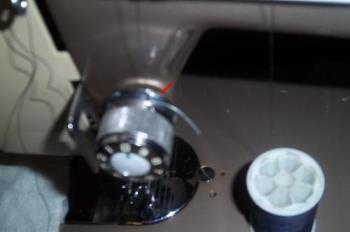 It would be great if you did live closer because I trust you can fix it and fix it right. I posted a picture of the tension and I know it isn't great, but I did use a red line to show where I think the problem is. The part behind the spring is loose or bent and I can't get the tension set because of it. As for how much sewing? When I first got it, I sewed about 1-2 times a month, and then when I had nothing to sew, about once every 5-6 months, now with the other work I have going on, I used it maybe last Oct after my son was trying to use it. Then I did some minor sewing and it worked fine then. Now kind of sewing I do is mending with light fabric, the heaviest fabric I have used are worn blue jeans. Before when I made flags and banners, all the fabric was very light, not heavy at all. We do need to make time to talk, and since you are busy now and I am fighting off a headache I have had for 24 hours now, I can wait..

• United States
26 Jun 12
The next question I have is what make is the sewing machine? Looking at the picture it looks like maybe the end of the spring tension was broken off. It would be an easy fix if I lived closer, but then of course it would be moot because with all the sewing machines I have I would just loan you one. Anyhow, let me know the make and if possible the model of the machine and I will do some research on it.



• United States
27 Jun 12
After I carried the machine to the car, and my arm stopped aching (that sucker was really heavy!!!) I was walking on air. Then when I looked in the lid much later I was even walking higher in the clouds! I couldn't believe that I had the accessories with it too...especially the cams. What is so funny is that I had mentioned to my boyfriend that I needed to buy size 18 needles for the sewing machine I have, and there was three packages of size 18 sewing machine needles included with the Singer. It was like I was getting paid for taking the free machine.


• United States
25 Jun 12
I so understand about the sewing machine. The favorite one I have is an all metal one, a Singer touch n sew. I stopped at a yard sale to look into buy the cabinet for my newish (plastic) Singer. The girl sold me the machine, then she went in to the house and found the original book, it had been her aunt's and had all the little notes that make it easy to use this machine, and a beautiful wooden box of tools and accessories. All for $15.

• United States
27 Jun 12
You can't beat the old all metal Singer sewing machines! The one that I had when I was a teenager sewed through anything. I did leather sewing on it, upholstery work with it, sewed all my clothes, and even hemmed jeans on it and it didn't hesitate a bit. You lucked out on the machine and the works. It is very unusual to get the owners manual with the machine let alone the tools and accessories. I felt really lucky to get the accessories with mine too! Now, for the $64,000 question. Do you tend to go to the older Singer more often than the plastic one?


• United States
28 Jun 12
I do choose that one first. I am ashamed to say all my machines are buried and I do not sew much right now. I remember spending days sewing and sewing.

• United States
24 Jun 12
GOOD FOR U!!!! U are talking right up my alley when u say u are out looking for old treasures. I use to do alot of that when i had my antique shop.I called it junking & it was my favorite thing to do every chance i got. This has been many years ago now but i relly did have fun doing it. i'm glad the machine is in good working condition. Singers were really good machines. Do they still make them??

• United States
27 Jun 12
Singer is still making sewing machines, but they aren't the quality that they were when they were made of all metal parts. I haven't used any of the newer machines, including their embroidery machines, but with the reputation that they have achieved with the plastic and metal machines I am not anxious to try one. I used to go junking with my Mom. She would depend on my instincts about things being valuable or not. It seemed like I could touch an item and know instantly if it was worth picking up or not. I still have that touch...and still use it for the stuff I buy to put in the consignment shop I supply. I haven't had much chance to go junking lately, and it was just dumb luck that I was in town last Saturday. I had to drop off my entries for the fair and went from there to the park where the trading day junking meet was held. What was really funny is that I didn't find anything to buy, but found the sewing machine and the toaster for free.

• United States
25 Jun 12
I am glad that you found a sewing machine at a great price (nobody can beat free). I have a newer Kenmore sewing machine which was my late mother-in-laws that I am using for quilting. I am hoping to get better at it so I can eventually buy an older one (one that is not made of plastic). I am glad that you were able to save money and time. Did you ever get any money back on the other sewing machine that would have cost you 200 to get fixed?

• United States
26 Jun 12
I used that sewing machine as a down payment on a serger/overlock machine. The man at the sewing machine store was thrilled to get the old machine and has probably been working at restoring it for his collection. It wasn't too bad a deal as I paid $35 for the machine and got a $100 deduction on the price of the serger. I am hoping to get it out of lay away by August so that I can start sewing for myself. The other big plus with the serger is that it has the sleeve arm so that I can also use it for making teddy bear clothes for the teddy bears I design and make.

• United States
24 Jun 12
You do know that is worth a lot more than 50 dollars? With all the decals, accessories in tact, in great working condition, it could be worth a lot. And you go another 1961 too? Fawk you. :'( i want to score like you. You have great luck! You have been blessed. Good luck to you, obviously you dont need it though.

• United States
27 Jun 12
It wasn't so much luck as it was someone watching over my needs. I haven't had time to work on the other 1961 Singer I bought for $5. It does need some work and I stashed it in the storage room until I feel up to working on it. I am going to take apart the toaster first so that I can clean it and get it ready to go in the shop. After a liberal dose of WD40 the Singer I got ran like a Swiss watch. If this was good luck, maybe my luck with the lottery will change too!

Usually my luck really stinks.

• United States
24 Jun 12
Hello Loverbear It sounds like you have had some very exciting times. Congratulations on your new toaster and sewing machine. The sewing machine sounds like a grand addition. A few years ago I bought a house and when I was exploring the out building I discovered two commercial-grade sewing machines along with their big tables. I took them home (the house I bought was an investment property) but never used them and eventually gave them away. Recently, I bought another property -- an old church building, and I have made all sorts of neato discoveries, including communion sets, pews, brass candlestick holders, and all sorts of religious paraphenalia.

• United States
27 Jun 12
Pardon me while I drool about the commercial grade machines. I have wanted one for years and haven't found one for under $600! But this Singer will do the job nearly as well as the commercial ones. I would love to score like you have. Most of the houses that I have lived in haven't had much of anything except bats, mice and dust!



• United States
27 Jun 12
Thank you for the congrats, I had a wonderful time. I love yard sales, flea markets, swap meets, and thrift shops. I have found some of the most wonderful things while cruising around. Nothing tops this machine though, it was like the person who had it heard me that I needed a better heavy duty machine and set this one out just for me! I would love to live closer to town so I could do more bargain shopping.