Current Payment Processor Issue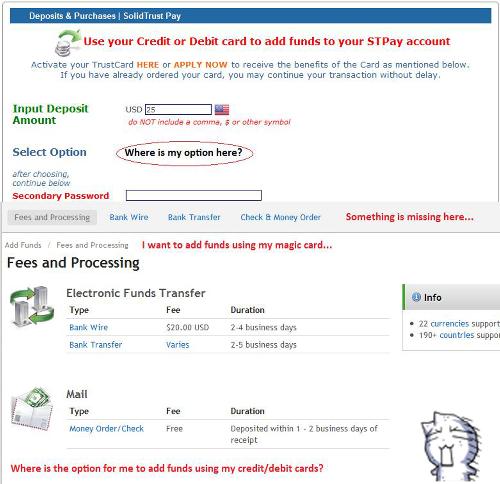 Davao, Philippines
June 29, 2012 1:10am CST
Over the last few days I noticed something strange with my payment processors; Namely my Payza and Solid Trust Pay. I think you can understand what I mean once you look at this image I just got. If you're asking, yeah, I took it just a little before I created this discussion. Now think, if something is wrong with payment processors, won't the online businesses be affected as well? Those who panic will review online businesses as scam without knowing that something is really wrong with their online banks in the first place.
2 responses

• Malaysia
29 Jun 12
for my payza also like that, don't have credit card selection. last time have a while where we can verified payza account with credit card, but i can't make it. then this few days i see my account, it weird, the option was lot, but some of the website still saying you can straight add fund to the site with payza by using credit card. maybe just like paypal, can't add fund to it via credit card but can use it to add funds straight to the site =)

• Philippines
29 Jun 12
Well according to the previous discussion I have read just a while ago Payza, Paypal and STP have removed the option to add funds using credit card due to there have been a lot of fraudulent in using credit cards online. To ensure the safety of their members they disabled this option.

• Davao, Philippines
29 Jun 12
Then how do we get to add funds into the Payza and STP? I don't have anything with me aside for my debit card.


• Philippines
29 Jun 12
Are you from the Philippines, SinfulRose? STP has disabled credit/debit card option from the Philippines. I wrote to support and they replied this is due to the rising fraudulent cases from credit/debit card users from the Philippines. I asked if credit/debit cards from Malaysia are accepted. They replied yes.


• Philippines
29 Jun 12
I panicked too when I saw the same thing. :) PayPal can still use EON from Unionbank. Payza has disabled their credit card option because of backlogs regarding many complaints about delays in withdrawals and deposits via credit/debit cards. I decided to stop waiting for a solution, I had to find one for myself. No one I knew knows about SolidTrust Pay, they only know about PayPal. I searched online for an e-currency exchange site. I came back to myLot to try to find answers. I got the reply to try www.widto.com. In short, that site cannot be trusted. Luckily PayPal refunded my money after filing a dispute and they were really quick to resolve it. The second one I found is www.youexchanges.com. I exchanged my PayPal funds to STP without any problem.