Probably I know who will be the winner for Euro 2012

Guangzhou, China
10 responses

• Italy
1 Jul 12
Yes!

Italy are certainly going to win, especially if they play again like they played on Thursday! Forza Azzurri!


• Italy
2 Jul 12
Sadly Italy were unable to get the better over Spain. Maybe next time


• Malaysia
1 Jul 12
We are on the same page. Pele is entitled to his opinion and prediction. But with the character Italy has displayed so far they will hit Spain hard. The game might go into penalties. Pirlo should be at his best today and Spain will be in for it. Iniesta is now the only architect with Xavi dropping in form. Though Spain is saying to put three attackers today. Mario will terrorize Ramos as the first game. Italy to the victory.

• Malaysia
2 Jul 12
Pele's prediction might right. Spain played their best match of the tournament. Italy could not contain them. Xavi came back to his best in the match to control the midfield and this unsettled the Italians. Spain are no doubt the best team now


• China
4 Jul 12
Three days ago when I read this topic and I also finished my response to it, but the page wouldn't work even after I tried many times. Now I am back again on this topic and I have to say that my prediction was right that Spain would win the match and it did. Back to then, I just guessed it from my personal sense. Take care, youless.

• India
4 Jul 12
Spain won the Euro 2012. It was really a mind blowing performance from Spain. They have scored two goals in the first half and scored again two goals in the next half. But, Italy could score even a single goal there

.



• Malaysia
1 Jul 12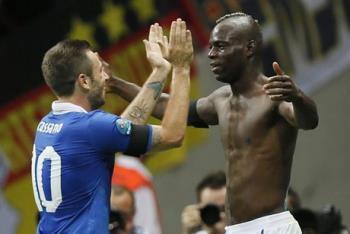 Anybody is entitled to his/her opinion although Pele is notoriously known for his inaccurate forecasts. I hope Italy will win. I like their style and players. But Spain will start as the favorite tonight. I feel the Spanish coach has not played the best of his team with his no-striker formation. They were the favorite to make history to defend their crown but I am not sure if they can do it now. Go Balotelli go! Score another!

• Brazil
1 Jul 12
I think that the obvious winner prediction before Euro was Spain or Germany, so, no surprise in Pele's declaration. I was cheering for Germany, but now I prefer that Italian wins.

•
1 Jul 12
it,s very dificult and not easy to frediction who can wins to this final.but i think spain in good team and good achievement they are team to winner best of the best,and this time spain team must get to win for tree cup,tree trophies winner just for 4 years for this euro cup and well be perfect.and italian team i thing that time waiting this final they want to prove how to playing games with beautyful style to spain.and italian team would change predikted victory for italian team, cheers,ronigress

• United States
1 Jul 12
I think that Spain has to be the clear favorite, although the way that the Italians are playing I would not put it past them to take it all tomorrow. Euro 2012 has been about the strength of the Spanish and the teamwork of the Italians, so seeing both of them in the finals and winning is very possible. That being said, I personally believe Italy will provide a mild shocker and win yet again. I know this is not much of a longshot prediction, but the key person on the pitch will be Mario Balatelli; he can be the person that carries the Italian team, but he might also prove to be their undoing. If he can keep his head in the game and straight, which I believe he can, he will have the ultimate positive impact for the Italians and they will take the Euro 2012 tournament.