Cops that abuse their power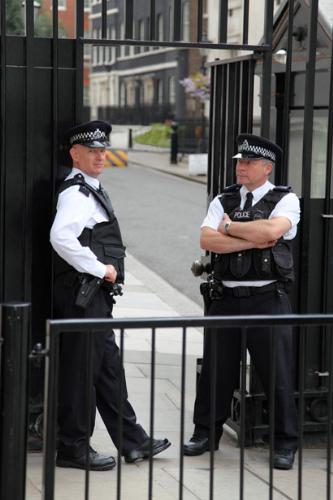 United States
July 1, 2012 3:21pm CST
I have seen some cops that are very rude, and even mean, but never like some cops out there. There was some footage on youtube of cops using excessive force, and beating people for no reason. This kind of thing makes me sick. How can cops get away with this? Why do they do it?
3 responses

• Indonesia
2 Jul 12
Yes, we have a lot here and unfortunatelly we cant do anything to stop it, if we made percentage how many good police and how many bad police in my country it looks like we will get this result 5% good police and the rest are rude arrogant corrupt police. Police abusing their power is not something new here, they are also money oriented, they can be bribe easily. I have seen some police who dont want to pay when they are using public transportation, there is also case when police beat the civil for no reason. Here in my country, to be a police you have to bribe/pay a lot of money. and I think that is one of the reason why they are being arrogant, because they think they are better.

• United States
2 Jul 12
This is not what being a cop is suppose to be about. It saddens me to see so much of this in the world.

• Indonesia
3 Jul 12
Yes, police are supposed to protect the civil and make us feeling safe, but what happened in my country is the opposite, they dont make us feel safe and sometime we feel intimidated by the police.

• Philippines
2 Jul 12
I am also against this police brutality. I think what happens here in the country(Philippines) was that the policemen lack guidance and they become corrupted themselves, similarly as to what they have encountered in their heads. They might have been abused themselves and as for the daily work they face... they are always confronted by crimes, by people who do crimes and their own mindset might have been towards survival itself. thus their means only is the one that we know of. It is like cancer, there has got to be a reform in the whole police system so as to the guidance of our policemen. Soon as they graduate, they are left on their own, i believe they have already been made to encoounter such without being fully prepared and nothing can make you prepare for what is to come when you are on the field chasing after goons and what have yous.

• United States
2 Jul 12
There is no call for it. And they should be held accountable for their actions and treated like everyone else. They are suppose to uphold the law, not break it.

• Jacksonville, Florida
1 Jul 12
There is plenty of this that goes on. Matter of fact you reminded me of something else too that I might start a discussion about, we will see. Anyway, yes the police think they are better than others and can do whatever they want and get away with it! It is truly unfair that they do get away with most things that others would be locked up for...

• United States
1 Jul 12
Yes, I think this is total BS. This should be fought against and stopped.