Is the caviar very delicious?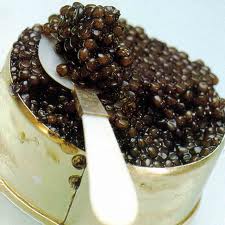 Guangzhou, China
8 responses

• China
4 Jul 12
I have never tasted caviar. I think that it might be a foreign food, but I like to eat those tiny fish eggs and I love its taste. Each time when we buy a fish, it is always I who eat the fish eggs from the fish. My father used to say that it is no good for children eating fish eggs as it is uncountable. If children eat fish eggs, they would not be able to count correctly, meaning that they would not learn calculation well. It is a myth, I guess. Anyway, I wish you would get some information about real caviar. Take care, youless.



• Malaysia
6 Jul 12
Hi youless, I know caviar is prepared from fish roe or fish berry. I had seen this when I visited Hokkaido three years back. Different types of caviar were displayed in the hypermarket. Most of them were orange color and with other ingredients like hot pepper, etc together in packs. They were for the working people to purchase back for meals conveniently. Some were solely translucency beak like fish berry in appearance. They looked really beautiful and lovely. I hadn't tasted them though. I would feel sick if taking them raw

Happy posting


• Malaysia
8 Jul 12
Not exactly youless, just become I have great interest in eating

Here articles related to food from different places and countries are available in the newspaper here. I'm not learn to cook I actually attracted by the dishes with wonderful looks. I like visiting the food department in hypermarket whenever having local and over vacation

Have a nice day


• Malaysia
6 Jul 12
Youless, i haven't tried eating this caviar either, too. But, my parents ever ate them before and they said it tastes very delicious. Especially, when eaten with specially prepared sauce. If not mistaken, they usually eaten it raw with that special sauce. The price of caviar in my area here is not cheap, so they seldom eaten it now.

• Philippines
5 Jul 12
Same here I heard about this food but I haven't tried tasting it. what I really know about this food is that it is expensive and only fine dining restaurant serves this food. I just want to try tasting this food too.


• Canada
7 Jul 12
Yes we eatit raw, and it's absolutely wonderful. There is a Danish restaurant that I like, that serves wonderful caviar. Same with the Russian one. It's a little salty, but not too extreme.