Bonding Time With Friends

Australia
July 5, 2012 6:32pm CST
I just had a coffee and chat with my girl-friend a while ago. This is one thing that I enjoy doing once-in-a-blue-moon. Catching up with each other's lives and activities makes friendship stronger and more meanl. It was a perfect bonding time. It did not cost much as well. A cup of coffee and a couple of hours chat, whew! We never run out of things to talk about. Do you also do something like this with your friends? What else do you do during your bonding time? We are eyeing at swimming and distance walking next time.
9 responses

• United States
6 Jul 12
When I bond with my friends we usually go out to eat something or go watch a movie or just hang out. I don't really refer to it as bonding because it's more of a gathering, a hangout, and then everyone goes their separate ways until next time. There may be a bonding vacation coming up soon, and for that, I'm really excited so I guess we will strengthen our friendly relationships by the memories and laughs had while on a stress-free vacation!

• Malaysia
6 Jul 12
I hope I can have that chance too, vacation with friends! How fun.

• Australia
7 Jul 12
Wow! That's a great idea: a vacation with friends. It's just that as a busy wife and mom, it's so impossible for me. I used to do this when I was much younger and single. Thanks for the response.

• Malaysia
6 Jul 12
I love that! What could be better than a cup of coffee and so much laughing, talking, debating and just catching up? Especially if it's someone you enjoy talking to! Not forgetting having dinner, lunch or even breakfast. How pleasant. Distance walking? Not sure if my friends like that, we prefer sitting I think. I guess walking much around the mall is distance walking too.

• Malaysia
6 Jul 12
Even today I'm going to have lunch with a friend. I hope we will talk a lot. I hate outings without talking.

• Australia
7 Jul 12
Hi desiree91. We do distance walking as a form of exercise. Then we were chatting while walking. Thanks for the response.

• Philippines
6 Jul 12
Sometimes, missing each other makes the bonding stronger. We had friends that we haven't seen for months, when we met up a day is not enough though. However, we still have constant communication with them.

• Australia
7 Jul 12
I agree with you, distance makes the bond stronger among friends where the friendship and loving is real. I miss my friends in my home country. Since I am living overseas now I feel like I am missing a lot of time and fun with them. Thanks for the response.

• United States
5 Jul 12
I normally don't do much of anything but fcus on what my friend and I are chating about. I think anything else would be rude. unless I am cooking or doing something while chatting in the house.

• Australia
5 Jul 12
Hi gifts. I meant what do you do together as your bonding time? Sorry, if my post was not clear for you. Do you also watch movies together, or eat out together, or do exercise together? Thanks for the response. Have a great day ahead.


• Malaysia
6 Jul 12
Hahahaha...that sounds exactly like what me and my best friend always do. We were both separated after we were twelve years old because we had to go to different schools. And because of the long distance...we can barely see each other. But every year, we would make it a point to see each other no matter how busy we are that year and it is always and enjoyable time catching up with each other. It is Some bonds are just impossible to be broken :)

• Dhaka, Bangladesh
6 Jul 12
Yes, this is one of the ways to make friendship and also to maintain friendship. If you can talk much, you will have a lot of friends but if you do not talk, then you will not have much friends. Have a very nice day.


• Philippines
6 Jul 12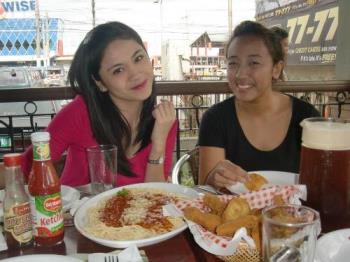 It's wonderful to have some bonding moments with close friends. It is really something worth doing every once in while even if you are too busy to keep the relationship closer and sweeter. Bonding time of course mean enjoying food of all sorts together while engaging in endless chatting about this and that. It could also be done by going out of town together so the bonding time is longer and more memorable.