I think I need a hammock in my balcony!:)

Philippines
July 6, 2012 1:45pm CST
I am really enjoying my new place and the best part, because it is summer time ,is the balcony. I am in the best spot now while my lotting. It is already almost 9:00 pm. The sun is still just setting down so If not with the cars passing by downstairs then it feels like a siesta time back home. With a hammock hanging here, then it would even feel more like home. The trees beside the building would be a good view still with birds flying in and out of the foliage. Thanks for the considerate architects and engineers who didn't concretize all of this compound. Then I will just cover my ears with ear phones playing the music I like to mute the cars' busy sound from the street.
6 responses

• United States
7 Jul 12
I have a great hammock that my mom and I bought on a trip to Mexico back when I was twelve. We've never found a good place to hang it, so we've just never used it. In the house we're living in now, there's an awesome spot in the back yard, between these two really good-looking trees. The only problem is, a few of the neighbors have noticed a four to five foot long black snake in our back yard, usually right between those trees. Some people might be like, "Oh, yeah, I could handle that. To have the perfect spot for a hammock?" But the thing is, my mom and I are TERRIFIED of snakes. So, I guess we'll go another summer without a hammock.

• Philippines
10 Jul 12
Hi MischiefFilledMe! What a pity that you have a hammock but you never really did use it. Maybe, you send them to me before the summer ends.lol. I hope you will someday find the perfect place for that Mexican hammock!:)

• United Arab Emirates
6 Jul 12
The last time I was able to use a hammock was when I was in Boracay. It was set inside the vicinity of my hotel. I love how the wind sets and cools my body as I rock it to and fro. It would have been better if it was set overlooking Boracay waters while sipping tequila. Sigh!

• Philippines
6 Jul 12
I miss all about the Philippines. Yeah, perfect place for that would be in Boracay. Whenever I went there with friends, I would party for just one night and would not join them partying partying anymore for the remaining nights. I would wake up in the morning to enjoy the morning sun and the fine white sand in peace as most of the people are still asleep. If I am lucky to not have a whole family with their children who start their day early too then the beach is mine.

• United States
8 Jul 12
Yeah it would be cool for you to have a hammock. I wanted to get one for our backyard. I hope that you will be able to get one soon. It would be very relaxing.

• Philippines
7 Jul 12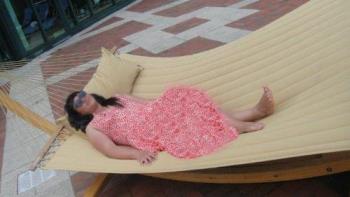 Oh you seem to have a very restful place so I can't blame you if you want a hammock. That is the best you could ever have in your balcony. Surely you will enjoy lying on your hammock in the morning or during siesta time with that wonderful scene around you. God and buy one and start enjoying.


• Philippines
7 Jul 12
Well hammock is a nice place to sleep and relax for a while.Nice place to read too.I Way back in childhood,hammock in trees in our backyard is one of ways to play with neighbors.Some times swinging is so fast is quite thrilling and enjoy.There are some who used old tires or net to make hammock that can play with.

• United States
6 Jul 12
that sounds pretty peaceful, I havent been in a hammock in a long time and i never owned one.