Scary Excitement : The Host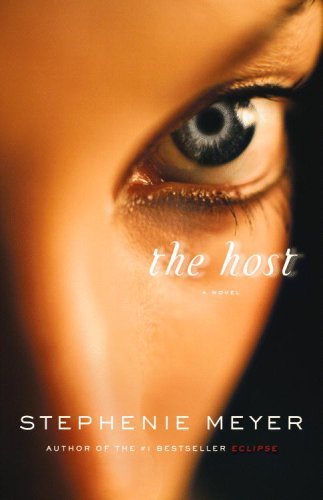 United States
July 8, 2012 1:01am CST
Ever had a really scary or excited feeling before you start a book. Sometimes you just know that the book you are about to read is going to change your life in some small way. Maybe not just a book, but anything, a video, a picture, anything. I am an avid fan of the Twilight Saga by Stephenie Meyer. It is more than being a fan, for me, it is living in that world, being there, experiencing every little thing. It is too real for me [as I am sure it is for many other people too]. I get goosebumps reading some parts of the book. I could actually say I am in love with Edward Cullen [not the actor Robert Pattinson, although he is yummy too]. I mean I am in love with the character Edward Cullen in the books. I knew Stephenie Meyer had written other books beside Twilight series, but I never felt any attraction towards it, thinking that it is disloyalty to Twilight. But I was checking out Stephenie's official website today when I saw many links and mentions of 'The Host'. I just felt like doing it, so I got the book, and now I am reading it. I have just begun, only the 13th page [considering the front page, index, acknowledgments, etc. it comes to only about the 3rd page in the book]. I swear, my heart is higher and I am kind of scared and excited both. I have never bungee jumped before, but I imagine this is what it would feel like. This is a very intense and crazy reaction to just a book. Have you felt anything like it? For anything else?
4 responses

• United States
8 Jul 12
I can't say I've felt that way about a book - maybe a ride at an amusement park

I hope you enjoy the Host. It is a much better book then the Twlight books. It's meant for adult readers, the verbiage is more adult, the writing style is different, the storyline is much more developed. You can see her talent in The Host. Makes the Twilight books look like a bathroom reader lol

• United States
8 Jul 12
Aawwww, please don't say that. I am not over my Twilight fever yet. And I don't want to be. But you're right about the amusement park ride. :)

• United States
8 Jul 12
sorry.

I actually read the first 2 Twlight books before they were the books to read because my now mother-in-law ran across the author and thought it was funny that her and I had the same name at e time. I felt like - especially in the 3rd book - that the quality of her writing just went down hill. The books are okay, they are quick teenager genre read and are appropriately written for the genre. I own all 3, even the short story. Can't say I'll read them again though. There is a huge inference in The Host and Twlight - to the point where it's almost unbelieveable that they are written by the same author.

• United States
10 Jul 12
I agree. But why only 3 Twilight books? There are 4. And a partial draft for 5th also. My favorite is that partial draft, even though the book was never completed. And since I still consider myself a teenager, Twilight was perfect for me. The writing was not very skilled, I admit, I have read books that were better written. But the story, characters, emotions and the love caught me. I think Stephenie Meyer's writing in Twilight was very straightforward and direct. But it also had hidden meanings and expressions that were left for the readers to understand. For example, Edward's feelings are never too obviously in the first book, or even the 2nd or the 3rd. He never declares it too much whereas the book is written from Bella's perspective so we know exactly how she feels. But from the whole series, Edward's love was the strongest emotion I felt. And the love story is too great, I wish it was mine, so I can be a little lenient when it comes to writing. As for 'The Host', I have almost finished it, and it is really good, but I am still a Twilight girl. For me, Vampires 1, Aliens 0. I would rather fall in love with a Vampire than an alien. But the concept, story, imagination is really great, I don't know how she comes up with it.


• United States
9 Jul 12
I'm also a Twilight fan, though not nearly to the point that you are!

I read The Host some years back and I really enjoyed it. I think on some levels I liked it a lot more than the Twilight Saga, but they're highly different stories so I don't think that it's all that fair to compare the two. There's a little romance in the Host, but it's really more about an alien connecting with human beings and Twilight was pretty much mainly Romance. I hope you enjoy it! I haven't really ever felt that excited before I read a book. I've felt that way about some books as I was reading them, but not with that much anticipation before. I absolutely love to read, and I never go a week without breaking into a new book. There are a number of books that I adore. I just can't remember ever getting super excited about one book or thinking that it was going to change my life.

• United States
10 Jul 12
True but some books really have changed my life. Not in too major a way, but when it comes to some particular books, I knew from the first page and the fist line that I am going to be crazy about this book for some time to come, I am going to annoy my friends talking about it, I am going to stay up all night and reread it as many times as I can. Those kind of changes. It first happened with a book called 'Mystery of the Friday Ghost'. It was a book I used to borrow from my school in primary. Kiddie book, usual Famous Five stuff, but I used to be crazy about it and grab it every time I had a library session. I never let anybody else get it. Then with the Harry Potter. I was very reluctant to read that, thinking what is all the fuss about? But I took a risk and I feel in love with it from the first word of the first line of the first chapter. With that first word, I knew I was going to love it and it was going to be a life-changing experience. And it was. My family still groans at the name of 'Harry', 'Hogwarts', 'Brooms', 'Magic'... You get the picture. Then it was Twilight. My friends in college hate Edward because that is all they ever hear from me. Lots of books came and between and went, I loved many of them, but I feel this certainty with some books, that this is it, my next obsession. I am almost finished reading 'The Host', but for me, Twilight is better. I am more into romance so that could be the reason.

• United States
10 Jul 12
That could be the reason. I personally like how the Host not only explored Wanda's romantic relationships, but also her relationships with her other family members and her personal feelings about bonding with the humans and betraying her own kind. I think I've hoped from one books series to the other, and I don't particularly have one that stands out as my major obsession, just cause I love so many. I think the closest I can come to is Chronicles of Narnia, which I've read multiple times since childhood.

• India
10 Jul 12
may be you have some vampire instincts inside ;-)

• India
5 Feb 13
Thanks for telling me about this book, i read books on astrology, numerology, gemology and research papers on ultrasonic.