John Terry's trial

8 responses

• Malaysia
15 Jul 12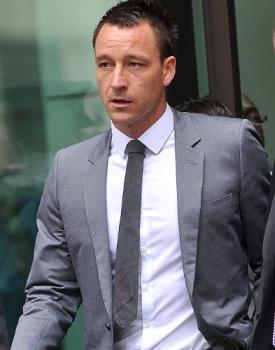 I am not surprised by the no guilty verdict. The players that are involved in the case are not saints. They use derogatory words all the time. I would think that what John Terry said was just angry words uttered in the heat of the moment. It might have contained racially abusive words but it was said as what normally is in a quarrel, and not specifically meant to abuse racially. John Terry does have friends of other races. If he is a person of racially biased, he would not have befriended with people from other races. Of course he was stupid to say such derogatory words as he was the England captain and thus a public figure.

•
20 Jul 12
It sends the wrong signal out to the young kids.Be famous and it is alright to swear ,abuse and upset people in a way anybody else would have spent a night in the cells for and up before the magistrate in the morning.All these footballers and sports people are role models not gods.

• Malaysia
21 Jul 12
I am not surprised for the no guilty verdict on the basis that the words that John Terry said were not meant to abuse in a racial way. But what he said were swearing, abusive and upsetting words, no doubt about that. I am not sure if English law could penalize people who use swearing words. I was just thinking in the angle if the words that John Terry said had the intention to abuse racially. We have long held that footballers and sports people are role models for children. The truth is that most of them are not qualified to be role models. It is especially obvious in team sports. Their excellence in their sports and skill usually are not reflective in their personality. What we can learn from them is their persistence and determination in achieving success on their field, and the sacrifices they had to go thru to attain such level of skills. But what they say or how they conduct their private lives is a matter I feel we should not set a standard for them because most of them will fail anyway. And I don't think it is fair for them with our unrealistic expectation. Those footballers and sports people should be role models for their sporty achievements and nothing else.

•
15 Jul 12
He has been found not guilty but now he has got to face the FA over the same offence.

• India
12 Jul 12
Yesterday, I was looking at the coverage of the trial and it seemed that his first attempt at getting the case cancelled was rejected by the court. Apparently, the word "Black" followed by curses are visible in a footage provided by SKY Sports. But before this there is a portion where in response to a sledge by Anton regarding Terry's extramarital affairs, Terry apparently responded with "Your ..." Apparently, it is not clear what was the word uttered after Your and that prosecution is keen to hear that word before they can be clear on this issue. So in other words, the case of John Terry is going to be decided on Terry's word!! :) Ironic!! Cheers! Ram

• Indonesia
7 Aug 12
For the case of John Terry may now still under investigation because the video evidence when Terry said the words racist against Anton Ferdinand is in care. Experts could then read lips reveal if John Terry did say the words racist. I think this is a bad event for Terry because Terry was the case served as captain of England, and it certainly should make Terry as an example for the United Kingdom khusnya and EPL players generally, but the rice has become porridge.

•
20 Jul 12
If we had said those dreadful things we would be found guilty.community service at least.Because it is a famous footballer he gets away with it.They should have made an example of him ,there is far to much chanting and discrimination in football.The language they use in front of millions of young people and little kids is appauling.I am at a lose to know what to think.All I know is it is wrong and nothing will change right from wrong,no matter how rich they are.Yours disgusted from an Arsenal supporter.



• Czech Republic
12 Jul 12
It's not easy to predict this. However, judging from Terry's popularity I doubt he would have to feel too concerned about this matter. Moreover, it's often word against word. At a pinch, it will cost him some money.