Farmer Plants Heart-Shaped Meadow for Late Wife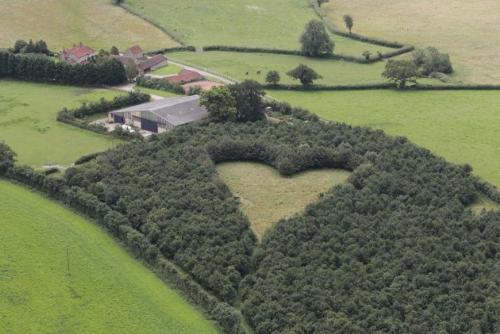 Philippines
July 15, 2012 11:55pm CST
This is so touching for a husband to do as a tribute to his wife.

When I saw this picture my first impression was that the husband really did a great job and that his wife could be smiling right now seeing the heart shape.

This was done by Howes a farmer and a gardener he hired for his late wife, Janet using 6000 oak trees to etch out a giant heart in the middle of his field in South Gloucestershire, England. I wonder if I could pull this off or my husband? Maybe in a small pot that should do it.

5 responses

• Philippines
16 Jul 12
I can't open the photo but I will check it later from the news. The last thing I did was carved a heart shape on a tree trunk -lols I am not sure whether I can pursue making it big (hehehe) like carving in a bigger tree maybe

How much love is needed to express like what he did...he's awesome


• United States
16 Jul 12
I heard about this on the news and never got to watch it. I was wondering why the husband planted all those trees. He really showed the world how much he loved her. this is so special to even be a part of.

• United States
18 Jul 12
This really is a beautiful tribute that this farmer has made to his late wife. I know that she is able to see the heart that he left for her from heaven and I'm sure that she is smiling down on him for the tribute that he made to her. With that said, I believe that when and if something does happen to my husband before my time on earth has come to an end, I will make some kind of a tribute to him, but I know it won't be on this grand of a scale.