Shrimps: no need to add much to make them awesome.

Chile
July 16, 2012 7:26pm CST
I ate a lot of shrimps while on my vacation. My friend and I decided to cook onece a day and eat all sorts of awesome appetizers at night instead of diner. I bough lots of shrimps from Ecuador (those big ones!), some garlic and oil. We hade them with many sauces, some of them with the wonderful flavour of the Caribbean. IWished I could have brought some of those tastes home. Do you wish you could aet some of the delicious food you eat abroad when you are back from a trip? I do and many times I learn to do a new dih. Internet is very helpful. Share your own experiences

.
11 responses

• Philippines
17 Jul 12
If ever I would like to bring anything back is so people who have not tasted it would experience what I experienced, sorry but i am simply like that at times, once i've tasted something good I want people especially my family to taste it too cause I'm off to the the next adventure and ask wife if she can copy it, yes with the help of the internet. Nice to see you back friend

, yes the prawns, really delicious

, we have a lot here cause we culture it, wonder why it's so expensive and common folks have to settle for the smaller ones , I think it's simply because the choice is for the foreign market for export to rich countries like japan, we call it "sugpo" here and I prefer mine simple with just a little fish sauce and native lemon called "calamansi", also soured soup called "sinigang" with tamarinds, tomatoes,lots of water spinach, radish, milk fish etc...healthy and would keep blood pressure and allergy down for some people.

• Chile
19 Jul 12
I try to learn to cook new dishes that I have tasted abroad too, but sometimes I just cannot get the right ingredients. We also export some of our most precious seafood to rich countries like Japan and in some cases they have been fished to almost extintion

. Such is the case of the abalone, once a wonderful molusc we could have here.


• Philippines
19 Jul 12
at least they buy them, but another country just poaches them within our EEZ ( exclusive economic zone) as mandated by the U.N.

, yes and it won't be long before all the marine life there is also fished out of extinction cause they fish for commercial purposes, whereas all of us( countries) have shared it together for hundreds of years using traditional methods, guess that happens when a good neighbor suddenly becomes rich and thinks she now owns everything


• Philippines
19 Jul 12
ah before i forget, thanks for the best response





• China
17 Jul 12
I am so hungry now. Last night I joined the wedding party of my boss's daughter. It is such a big wedding event. And the most important thing is full of delicious and innovative dish on the table. Since it was held in five star hotel, it is very hard to duplicate the dish at home while I think it is very yummy.

Saying the loyster, it is really great to taste it. However, I don't even know how to cook it, not to say the taste.


• Chile
19 Jul 12
Thanks wonveren. Vacations help a lot get better. I don´t know if they are in any health book, but I know it works like magic.



• Philippines
19 Jul 12
shrimps are the best! I am so glad that I live where I can buy shrimps any time I want :)

• Chile
22 Jul 12
I love them, but they are not cheap in my country although there are shrimps to be bought.

• Philippines
22 Jul 12
And at the same time your country have products that might be too expensive in my country on the other hand. :)

• Chile
27 Jul 12
That`s how it is, of course. Fruit used to be very cheap here, until we started to export. Still it seems that our fruit is cheaper , at least some of them.

• Philippines
18 Oct 12
hi, i really loved to eat shrimps especially if that is cooked by my mother,and that is true no need to add more ingredients and spices because shrimp already tasteful and delicious,though i know how to cook that i still go for the cook of my mother that's why if she will go to my house she always had shrimps.

• Chile
18 Oct 12
I think the best shrimps I ever ate were sone shrimps fried on a wok with a bit of oil and crushed garlic. It was made by a japanese friend who cooked awesome dishes.


• Chile
18 Oct 12
Several years ago I went to an all you can eat buffet that has shrimps. They also had all sorts of food, but I decided I`d eat only shrimp. YUMMY!!




• Chile
27 Jul 12
We make a nice entree for guests filling half of an avocado with shrimp and topping it with homemade mayo. All that, of course, in a bed of lettuce.


• United States
18 Jul 12
In my life I've only had the opportunity to travel abroad once and I will admit that after I got back from my trip, I got really picky about the Italian food that I will eat because the Italian food here is just not the same. Now, my husband spent many years of his childhood in Germany and it is one of his greatest desires to be able to cook German food that tastes like what he remembers from Germany. He keeps trying and though he has been successful with some dishes, he has also failed miserably with other dishes.

• Philippines
18 Jul 12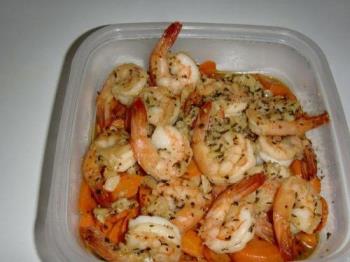 Yes if only I could bring home all the different wonderful food we've tasted abroad then I would. In most cases all I could do is just make my own homemade version of the food. Sometimes my cooking is successful but sometimes not. Nevertheless I enjoy doing my own version of every food I find really good and tasteful. I think going to different places give us not just opportunity to see the place, meet new people and experience new culture but also chance to enjoy different kids of food.


• Chile
19 Jul 12
Your dish looks wonderful. How do you make it? I alsdo enjoy to make my own recipes and many times, when I go to a good restaurant, I manage to talk to the chef to get some hints



• Chile
19 Jul 12
I had a lovely time

! I got well with my friend, met new people and belt I had more energy than what I have had this last year. But the eating part is finished for the moment: I went up 4 kilos

. I am eating reasonably since I came back and will try to walk some to have some exercise.

• India
18 Nov 12
I am too fond of shrimps. In India we cook the same with coconut milk at times or at times make steamed shrimp wraps with cabbage leaf with some garlic, mustard sauce, onions, green chilies. The same can be taken with steamed rice. Thanks a lot for sharing your experience.