Dream Team versus Now (plus a non sport inquiry)

United States
July 17, 2012 5:42am CST
In 1992, the United States sent the "Dream Team" to the Olympics. It's been said they were the greatest basketball team ever assembled. And then a can of worms was opened when Kobe Bryant said the current Olympic team could beat the 1992 team. And then I heard people arguing about it on multiple sports shows, and even Obama weighed in (he says the 1992 team would win - first time I've ever agreed with him)! Most of the people on TV say the current Olympic team would NEVER be better than the original Dream Team. But when someone starts arguing FOR the current team, I actually start getting tense. I could feel my blood pressure rising!

How hilarious is it that I get so upset about that?! Now don't get me wrong. My blood pressure wasn't stroke like or anything. I didn't get carried away. But it's amazing how sports can get to me like that. I doubt this discussion will generate a lot of replies as sports doesn't seem to be the biggest topic on mylot. But I'd like you guys to weigh in on things that "get to you" that you know shouldn't really matter.
5 responses

• United States
21 Jul 12
I think it's natural and healthy for people to be passionate about their interests and feel themselves getting tense when someone disagrees with them because they are so passionate about it. I have a lot of things I'm passionate about, though sports is not one of them. My son gets passionate about sports, though sadly he would probably disagree with you on the basketball choice, but I think that's only because of his age and the fact that these current players are the ones he knows. He doesn't know how awesome that team was in 92.. but I do, and I'd fully agree with you. Unfortunately I think to understand the awesomeness of it, you had to have been there at the time. Anyone who's too young to remember or wasn't even born yet should not have a say in the matter.. and I think Kobe Bryant is probably too young to remember. He was just a baby at the time. Heck, I was only 12, and I barely remember, but I do know how people felt about it and the media surrounding it. It was one of our great moments in history that can never be repeated.

• United States
19 Jul 12
Hi AmbiePam! Sports do actually have a way of getting people fired up..lol. I suppose the most recent thing that I have realized gets to me is the lack of consideration or manners. It seems that lately I have seen a lot of it and it bugs me..LOL. I know I can't control other people, and the way that I look at things is not always the right way.

• Canada
18 Jul 12
sports doesn't fizz me but it does my son. Topics that get my unfortunately are politics, I try to stay away from them but I keep myself informed listening to all issues and all political parties. I really dislike talking politics with close minded people.

• Jamaica
17 Jul 12
What an interesting discussion ambie? In am not a mega sports fan but am still in U.K. So will be here in London for the Olympics and the Fever is catching! I do not know about basketball but it is becoming popular in my home country. I know that I will be nervous when the athletics take place as obviously I am rooting for the Jamaicans. It will be tense as the last two races that Usain Bolt ran he was beaten by another Jamaican. But Bolt said that he is just beginning to peak. We will see. I am more concerned about terrorists attacking but the Brits seem to have it under control. Oh, the U.S will be helping at the airports! Glad for that. So yes, I will,be rooting for lightning Bolt to do it again and take home the gold medals in the 100 and 200 metres.! Many blessings. I am just beginning to get better after so many setbacks. Still in pain but it has decreased. Blessings again my friend

• Malaysia
17 Jul 12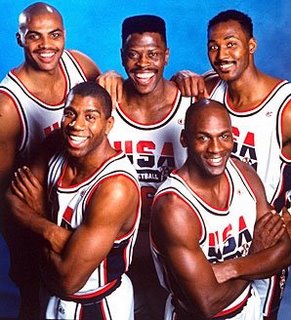 I feel that to compare the two 'dream' teams is a futile exercise as they can't possibly be proven on a real basketball court. What people can say about the 1992's are just how great they were individually and collectively as a team. But could they have beaten every NBA teams in every match? No, I don't think so. Sure they would win most of the time as the 1992's were the cream of the NBA stars but there would be some games that they would lose. Same as the current 'dream' team. If the 1992's are to play against today's, there will be wins and loses.