My almost 5 year-old boy is very moody

Czech Republic
July 17, 2012 3:17pm CST
I just wonder if anyone has kids whose behaviour is kind of unstable. My son is able to throw a fit because his younger brother was the first to open a door, a drop of water fell on his T-shirt (he has to get changed at once as his T-shirt is wet) etc. The problem is that no matter what we do, it's the same virtually ever day. Being nice or strict to him makes no difference. Otherwise he can be very nice, he can play together with his brother etc. But these sudden changes in his behaviour are often very depressing and get pretty much on your nerves.
6 responses

• United States
17 Jul 12
Hello Alesma and welcome to myLot. Kids can really be very trying at times. If you suspect that your son has problems you might start keeping a diary for him, Keep track of what he eats before these tantrums. Something else to watch is the weather, and maybe allergies. Since he is almost five you will probably be sending him to school and you will want this under control before then. He may be ddhd adhd. or one of those.

• India
17 Jul 12
It is ok to note down without being known to the child. otherwise it may cause complex in the child. This type of behaviour is taken as normal in India and other countries. Of course whether allergies affect him has to be watched. here the behaviour probably in comparison with his brother causes him to behave in an erratic way. I am of the view he is more normal like other children.



• India
17 Jul 12
Alesma: Nice point. It is normal for some children to behave in an odd way possibly due to jealousy or insecurity or seeking more comfort. Just ignore and if possible try to advise the younger one to allow his brother first place. I know this may be causing mental strain but it is not an issue to be worried about. If you exaggerate this then the child may feel 'bad' --'iam not alright'. you should not give him such feeling. he is normal--parents are over anxious.




• India
21 Jul 12
Alesma: thanks for selecting my response as the best response. When I posted this response I was in Canada with my daughter. Today I have moved to USA to be with my son. it is normal for the first child to have this type of behavior. he will get over it soon. just accept him as he is.



• United States
17 Aug 12
My son also had tantrums when he was very young. And sometimes he could be so sweet and charming. That was in 1973. Everybody said he just has a bad temper, he'll grow out of it. Well, he didn't. He grew and was a very disturbed adult. I did not see him for many years as it was impossible to deal with him. When he was in is 30's I realized he was bipolar. His life is a mess. He has an IQ of 175. He is very creative and a good artist as well as being very good in many things. Because I never knew he might have something like this I did nothing. His life could have been so different, so much better had I known. I don't see him anymore because he can be your worst nightmare. I don't mean in a violent way. He's very intelligent so he creates a different kind of havoc where ever he goes. If you talked to him you would think that I must be wrong, because he can present himself so well. It's one of his many facades. His mood swings are unbelievable. I have a background in psychology and I couldn't even help my own son. I didn't know then what I learned years later. There are ways to monitor your son's behavior and take him to a specialist without alarming him. It's best to do it while he is young. Of course, it could be a phase. All children are different. I am just presenting a different viewpoint here.

•
17 Jul 12
My six year old son is like this the other week he cried and moaned for about two hours because he could not find his colouring book. He is also prone to violent temper tantrums where he throws stuff around and my poor 15 year old daughter is usually the main target. Then he will snap out of it in minuets and it will be like it never happened. Fortunately since he has had his hearing aids the tantrums have become a lot less I think a lot of it was the fact he was not hearing us properly and was getting very frustrated because of it. He is also very strong willed. It can be very depressing and at times you just feel like screaming. The strange thing is that at school and when he is at other peoples house he is a well behaved lovely little boy. I praise him as much as possible when he is good and try to ignore the bad behaviour within limits of course. I hope that your son grows out of it.

• Malaysia
18 Jul 12
From what you mentioned, I believe you need to educate your child at once as it is a very bad behavior. I am sure you would not want to see him being this way in the future when he needs socialize and live with other people. Such behavior is not acceptable and it will surely affect his life in many ways. Act now before it is too late for him to change for the better.

• Philippines
18 Jul 12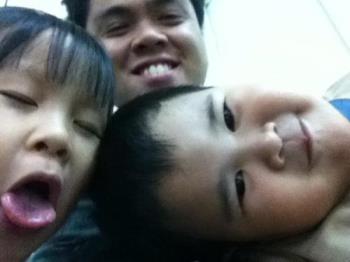 So your son do have unmanageable tantrums. Well it happens in many kids. I do also experience some tantrum problem with my little ones. As far as my experiences are concerned the most effective way to discipline that kind of child is to explain to him why such kind of behavior is wrong and to warn him that the next he misbehaves he will be punished. I am always diplomatic in disciplining my little ones but I also use the rod of correction when needful. Once a child felt the pain of being spanked, he will surely behave. But of course the child should know why he was spanked. It must be explained to him properly so he will know by heart which behaviors he should really avoid to avoid getting spanked again.