Do u think Cricket should be included in Olympics?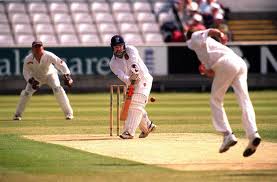 India
July 18, 2012 11:06am CST
Hey mylotters! There was a huge debate some time ago whether to include Cricket in Olympics or not. While those in favour of inclusion said that such inclusion would give chance to many nations who are deprived to showcase their talent and also Cricket would ante the popularity of Olympics. While those against the inclusion said that cricket wont taste that success at Olympics in comparison to other sports. What is your take on this guys? Please do share your views.
5 responses


• India
18 Jul 12
hey thanks a ton for your response. yeah even i feel the same. Women's boxing was included for the 1st time at London Olympics and there was a deadlock whether to include cricket or not. In fact all the sports should be included in Olympics in order to decide the ultimate world champion in all of them. There are certain sports like Kabaddi, Billiards, Polo, Netball, etc which are not included in the Olympics yet. What say?

• India
20 Jul 12
Hey thanks again for your response. yeah just like i have mentioned that women's boxing was included this time at Olympics, in fact other sports should also be given equal recognition. They should not be left out simply on flimsy grounds. After all Olympics is an integration of different countries, their culture and sports. What say?


• India
21 Jul 12
Yes, I too agree with the point of inclusion of cricket in Olympics. Cricket is nowadays somewhat very familiar in almost all countries. Also a game like cricket can direct a huge crowd to the stadium and thereby Olympic association can draw some huge money. Apart from money there are certain aspects which separates cricket from other sport. It's their unpredictable nature of the match result and of course the entertainment it provides.

• India
25 Jul 12
hey thanks a ton for your response. Yeah cricket has become commercialized and this can be taken as an advantage by Olympics to draw those section of people who are not willing to watch Olympic sports but are cricket lovers. What say?


• India
2 Sep 12
Hey thanks a ton for your response. Very well said. yes Olympics will get a boost if cricket is added up. There are millions of cricket fans all around the world and this will also give a chance to new countries to play with the existing ones and will heat up the competition. After all who does not want to win an Olympics gold. What say?

• India
21 Jul 12
I do think that cricket should be included for Olympics and I think cricket should be 20/20 format and most probably associates teams should also be included. I think it is good to see 20/20 cricket because it ends easily around four hours and also it is fun to watch cricket in Olympics.

• India
25 Jul 12
Hey thanks a ton for the response. Yeah i absolutely love your thought of 20/20 format to be used in the Olympics. They will not only add interest in the Olympics but would also draw more people to watch it.

• India
31 Aug 12
Earlier, I used to feel that including One day cricket in Olympics would not be welcomed much by viewers, especially in Americas and Europe. However, I feel that Twenty-20 has a good chance of becoming an Olympic sport. It would be just a little longer than football matches, and even European and American sports audience would like it. In fact, International Cricket Council should try to get Twenty-20 included in the Olympics.

• India
2 Sep 12
hey thanks a ton for your response. Yes very well said. If not 50 over format, then T-20 format should be included as this sport is not that famous in other parts of the world as in the sub continent. In fact several American and European countries can also participate and have a chance to strike gold at the Olympics. What say?

• India
5 Sep 12
Yes, some of the European countries and may be even Canada will try to train their countrymen in T-20 format and try to win medals.

• India
5 Sep 12
Hey thanks again for your response. Yes very rightly pointed out. This would also popularize cricket in other countries as well. It is taxing to watch the same teams playing every time. Its time to see some new emerging talented teams coming up from different countries that would spice up the contest in cricket. What say?