whats your way to enjoy life?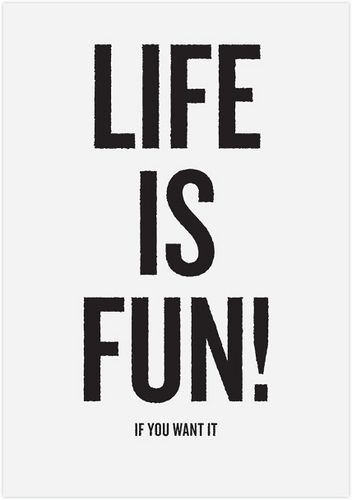 India
7 responses

• India
22 Jul 12
You mentioned a motivational movie. One of my friend was very much inspired by its ideology. I always believed in its theme. You do not exactly need to put that much effort in making yourself happy and filling your days with enjoyment. Just feel every moment. I listen to the songs I love listening to. It unknowingly gives me pleasure. You think of something you really feel happy about. Dreaming is one of those. Just imagine you achieving your goal and it fills you with so much of spirit. Whenever I get a small cute baby to play with, I feel like being the luckiest person in the world. Small things often leave you with big reasons to smile.. These are some of the things I enjoy..

• India
23 Jul 12
I respect your feelings but there must be something you want to do but didn't do because of busy life. Don't you think so?

• India
23 Jul 12
Oh yes ofcourse. In my last post I was just trying to focus upon achieving happiness by simple means. I love traveling and especially with someone good accompanying me. I haven't done that very often. But I am sure I will do it pretty soon. Then I want to adopt a sweet cute girl after my marriage. It will fill me with happiness. I want to see myself as a matured human, respected..and this thing will take time though I will surely do it one day

• India
23 Jul 12
Wow gautam. I am having so much respect for you. You have very noble thoughts. I pray for your beautiful life.



• India
28 Jul 12
Again you want to go for same fun. Did you jumped at the cliff jumping zone?


• India
23 Jul 12
I am happy to hear that your life is that good but you must have some wishes which were out of reach once & you want to achieve it. Share your views


• India
23 Jul 12
But my friend. There are some desires of everyone in life which they want to fullfil but busy schedule don't allow to do so. Think about that & please share with me if you are comfortable.


• India
23 Jul 12
Can you explain those wants which you are discussing?

•
22 Jul 12
I have just finished a three year University degree, and this means that I haven't had all that much time to be able to spend with my friends and family lately. So I am trying to do as much with regards to spending time with them as I possibly can to make up for the amount of time that I haven't been able to do this. I like to take them out for the day whenever I am able to, and we take it in turns to choose the place that we're going to be going. I like spending time with them, as I don't think that you should ever take them for granted.

• India
23 Jul 12
All the very best for your future but can you share your plans & places you want to visit with your friends?

• United States
22 Jul 12
I don't want anything but my computer. I love spending time with peopleas well. But nothing like how I feel when I am left alone to do what I want online. It makes me so very happy that I can do what I want without being bothered by anything.

• India
23 Jul 12
But don't you think that those people who spends more time on net, gets disconnect from normal life & other people?