why? why? why?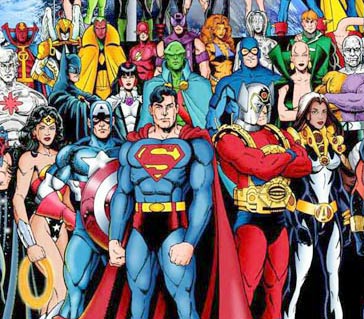 Bucharest, Romania
July 25, 2012 4:38am CST
Since 1938, when he - Superman - was created as a super-character, there have been joining the club lot of others, like Batman, Robin, Ironman, Captain Planet, Captain Atom or mr. Phantom. They all have similar characteristics: - are armed with amazing powers (flying, telepathic, turns into ice, fire, stone, iron, lightning, etc.) - morality (justice, humanity, good, planet, etc.) - hidden identity (from family , friends, media, etc.) - a suit ....... The suits give each hero a unique identity as its power (Batman bat, spider Spiderman, Ironman iron, speeders Flash, etc.), wearing a symbol (usually a logo on the chest), conceal the identity of the hero (mask) has mechanisms in place that helps the hero, has cloak (waving to the wind) and ... wear panties over the tights !!!


All of them, maybe except Spiderman .. Ok, nice designs, nice colors. But still, why they wear panties over tights?
5 responses

•
25 Jul 12
Apparently the first superhero costumes were based on the outfits of people like circus gymnasts.These gymnasts used to wear pants or something over the top of their tights and leotards in order to hide their modesty if you know what i mean and apparently this goes back even further to the days it was fashionable for men to wear tights.After a while it just entered the common culture and has become something copied by most people designing a superhero.

• Bucharest, Romania
25 Jul 12
You may be right but take in the fact that originaly Superman was a cartoon / comics. A drawing. Addressing to childrens ... Yet I definitive agree that one of the reasons is to cover / mask or at least to disperse attention from certain anatomical parts of human body ..


• India
25 Jul 12
well I gave a lot of thought to that and i have come to a conclusion and that is, Since all these superheroes are male. There must be a problem in handling the tights only and so they are given panties to wear on top. I don't know if i am right but one thing I know which is right is that they all have one problem and it is solved by giving them panties to wear on top. This is because of the tights.

• Bucharest, Romania
25 Jul 12
Well, that's a nice approach. Probably you are right because in middle age men had wear tights mostly, specially in high society. And in time they start feeling more and more incomfortable or they wanted to give the chance to wear thights to women also ...


But pay attention, at the beggining, Superman and most of all superheroes were ... cartoons and comics - with a target public of childrens ...


• Philippines
25 Jul 12
Yeah, yeah. That question also bothers most of me and my friends. Really kind of unsuitable. Oh well, maybe that is their thing. Should such fashion be the source of all their powers? Maybe you should try your self and try to become a hero too.


• Bucharest, Romania
26 Jul 12
No, I will not try because I have real doubts. Doubts supported by the fact that Spiderman do NOT wear pantie over tights despite he have certain superpowers too. So is not that the secret, but I have the feeling you actually kno the correct answer yet you wanna sell it for hard cash and give away for free. Shame on you !




• United States
25 Jul 12
Extra protection???? gives the artist something else to draw? Maybe it is a secret way of drawing extra attention to that body part and area. I guess once one artist started it, they all followed suit. The tights are necessary to keep the leg muscles warm and so that we the public do not have to look at hair legs and so the artist does not have to draw same. Maybe the panties are there to either draw focus to those parts, or to obscure. Or job security and not to offend someone's sense of decency in 1938 and it has persisted out of habit.

• Dallas, Texas
12 Jul 16
@GardenGerty
You're close, the "undies" were in part used to help show definition in the hero's physique. Reason for this in part is because printing copies of comics wasn't as efecient as it is today. Which would make sense why DC got rid of Superman's "red underoos" in the "New 52" because we don't have that problem in printing anymore. Though you'll have to forgive my cynicism, as I doubt anyone working at DC Comics now is aware of that tidbit of history... Heck considering that the trend presisted with Marvel's heroes, I could say the same about Marvel's crew.

• Australia
25 Jul 12
Haahaaa that is such a good question. Superman is the worst offender I've seen that does this and I really have no idea why. Maybe they thought it would start a trend and everyone would start wearing their panties on the outside!


• Bucharest, Romania
25 Jul 12
Well, if creators of Superman were to create a new trend too, they have it - all superheroes after are wearing panties above tights. Problem is that Superman and all rest are targeting kids, as a public. Would you like to see your child wearing panties over pants when going to school ?


• Australia
26 Jul 12
Haahaaa now that would be something wouldn't it? But these days they would wear boxer shorts on the outside instead. Lucky for me I don't have kids so I wouldn't care