Phelps falters on day 1 in his dream to become highest medal winner at Olympics!

India
July 29, 2012 1:00am CST
Phelps mission to overtake Larisa Latvina as the highest medal winner at Olympics suffered a jolt on Saturday. For the first time in an Olympic Race he ended without a medal in the 400 m Individual Medley. The gold went to his countryman and big rival Ryan Lochte while Phelps finished a disappointing 4th in the race. Do you think Phelps can get over the mental scar of this disappointing loss to win the 2 medals he requires to become the highest medal winner in Olympics history? Cheers! Ram
3 responses

• Indonesia
29 Jul 12
If he is aiming the best, he must set aside any upset feeling during the game. He can feel upset after the whole game. I still believe he can manage the feeling. Loosing in one battle not meaning loosing the entire war.

• Indonesia
5 Aug 12
Good ending for Phelps. He can manage the spirit and be an Olympic Legend. Wow, really lifetime achievement.

• Malaysia
29 Jul 12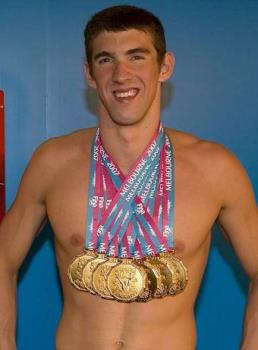 A top athletic should be able to concentrate and perform to the best of his ability when it matters most. Win and loss are not choices that he can make. He can only do his best. If his best is not the best in the contest, he should not be disappointed. He knows his own condition and he knows if he has done his best. I am sure that Phelps will do his best to win his remaining races.

• India
29 Jul 12
This has not been a great year for Phelps as he has not really set the pools on fire in any of the competitions he has played in this year. But I thought he would still finish in the top 3, a fourth place finish was really disappointing. Let's see how he copes with it. Cheers! Ram

• India
29 Jul 12
Well i too was disappointed with Phelps after he finished 8th at the end of the total cumulative rankings and this was not at all morale boosting performance for him. He must have dreamt of re writing the Olympic history books and this was not at all expected from him. Hope he recover on time and become the greatest Olympian of all times.