the freak out..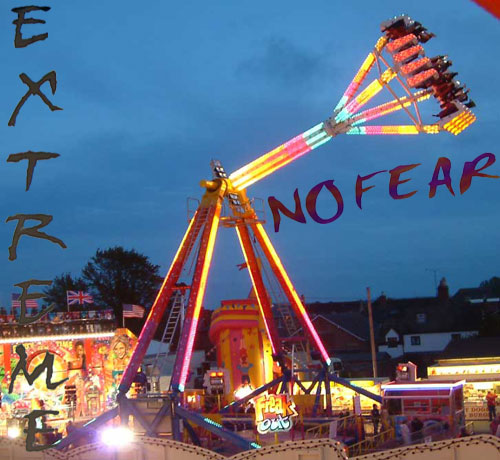 July 31, 2012 5:40am CST
In Northern Ireland, there is a town called Portrush. It is about one hour and twenty minute drive from the capital town I live in, Belfast. This weekend we took a trip to Portrush which is known for a centre called Barry's which has gambling machiens, dodgems, and various other rides, including a roller coaster and ghost train etc. See link below to show you Barry's amusements! http://www.barrysamusements.com/ While we were there, I came across a ride I had been on about 3 years previous. I had rides and how anyone actually talked me into going on this ride I will never know. It is called the Freak Out and is a pendulum style ride in which 4 claw like arms, hold 4 people in a row in place. So 16 people all together. The pendulum then swings backward and forward, gaining momentum as it goes to the point where you think it's going to go right over the top! Whilst this is happening, the claw like arms and seats are spinning round themselves, so its like you are literally just being propelled through the air. It was AWFUL. I have never been so terrified or felt so physically sick in my entire life. At one point you actually look down and think you are falling from the sky, and are virtually upside down! Who in their right mind invented things like this? I just hate rides lol. What do you think of this?
4 responses


•
8 Aug 12
YES I HAVE.. and that will NOT be happening lol! Yeah, there is Funderland or Planet Fun.. both pretty much the same. They had some of these rides whenever the Tall Ships came to Belfast. Don't know if you heard about that!


•
1 Aug 12
Lol.. I doubt that, I'm only 25 and they make me want to fake digestive distress to avoid going on them haha!

•
1 Aug 12
Make sure you remember which toilet to use.. I know you have a wet one and a dry one right? lol.. don't get the two confused!


• United States
31 Jul 12
Before getting on a ride I always watch a couple of rounds , i don't like those tear your gets out rides either. I won't rid them because then you are sick for days afterward. Its not worth it. What your ar talking about is a ride we called the Hammer,not good at all. Next time don't ride anything except the merry-go-round. good luck

•
1 Aug 12
It will be virtual reality for me from now on haha!!

•
31 Jul 12
I hate that pendulum. I hate it! A year ago we went to this festival and there were different rides and foods. So after eating, we strolled around the park for half an hour or so. my friend's daughter , she was 12 that time wanted to try the rides. It has been a while since I ride the ferris wheel locally. so i said okay ill go with her. so me and her aunt, the three of us tried a couple of rides (I don't know what are their names) which is okay nothing thrilling just ups and downs side to side. and then we saw this long queue to this ride, so we were curious we queued as well. I regret the time i mounted that ride. exactly how you described it, i was shouting STOP! I wish! It felt like it will go on forever, my insides literally had tossed and turned. when the time's up, i don't know where my brain is, my stomach was in my throat. I sat for 5minutes and promised myself never to have a ride again. So much for the thrill!

•
1 Aug 12
OMG I am so glad you were on it! It was AWFUL!! why would anyone want to get on a ride that feels like you are falling? I go through my day to day life trying NOT to fall.. And when I went on the ride, it was near a river so when I opened my eyes at one point I was actually looking over water and thought I was falling in.. TERRIBLE!!