How are you going to React?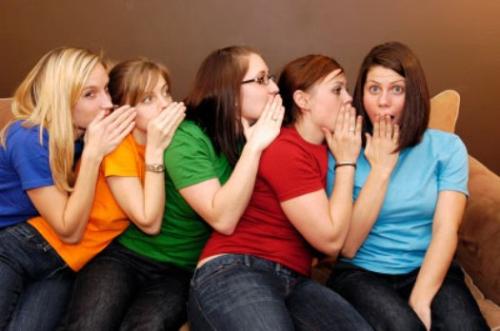 Philippines
9 responses

• Philippines
2 Aug 12
hi thezone that's so scary ..lol..I guess I'll be in jail...just kidding

• United States
1 Aug 12
I was in the very same situation, for real. It happened at a local coffee shop here; I was getting one of those thermos they have for my brother's camping and retreat. I decided to have a coffee and rest my feet for a bit when this group of 3 guys from somewhere in the West started criticizing how women in my country are so "lame, docile, submissive, etc" that they started to get dirty on the criticism. I can't help hearing it for they talk so loud and with the looks everyone's throwing their way, I'm sure I'm not the only one. When I finished my coffee, I walked towards the door which will make me pass by their table. I decided to sauntered over. I smiled and said in the sweetest voice that I can manage, "Hi. Next time when you decide to flame other people's customs and traditions better not do it in public and in such a loud vulgar voice. And for the record, not all women in this country are like that, just because you met a couple of bar girls you took out doesn't mean they represent the whole population. But then, given how you guys are like, you surely wouldn't be getting anywhere near a woman of my calibre. I bet you haven't even managed to strike up a conversation with a woman like me who speaks better English than you guys do. Oh yes, your grammar is wrong. And before you decide to hurt me here and follow me and get back on me, please be warned that I work for a government agency that can put you on a blacklist for assaulting a citizen. And no, I don't hate people from your country, because I'm married to one. Have a nice day, b*tches!" LOL, I swear I was a bit shaky and scared but when I looked back, I saw 2 guys seating behind them also talking to them and from the looks of it they were also being given an earful.

• Philippines
3 Aug 12
oh wow!... What you've done is pretty amazing,,in that way they will realize that they are wrong...

• Canada
1 Aug 12
I would listen in their conversation if their talking badly about my culture. It is never good to hear that people are saying all these horrible things and you must tell them to keep their opinions to themselves so that other won't get hurt. Personally, if I get to the point where I want to say something and not just stay quite, I will probably go up to the group and ask kindly why are they doing this? Don't they have respect for other peoples cultures? People might think if you don't do anything about it your a wuss or if you do something about it your rude. They have their opinion and you have yours.

• Philippines
3 Aug 12
two thumbs up bent31..Thanks for your comment :)

• Philippines
5 Aug 12
i will really dare to interrupt their conversation and correct their perspective towards our country. I will let them realized how well and unique our culture. I will slap on her face the reality that they don't have single right to give their criticism for they are here and strangers.It might be rude but it's one way of letting them know that we won't allow them to step our own dignity.

• India
5 Aug 12
I will go to them and will say them that no one has given them the right to criticize someone's culture .I will say them that i respect their culture and they should also respect their culture.

• Philippines
5 Aug 12
I will listen intently and take into account if what they are saying is true. Of course, before I enter into something like a discussion or an argument with them, I'll make sure that whoever is with me will back up my claim as well. If I find that whatever they're saying about my culture is beyond their understanding, I'll be glad to explain to them why is that so. Every race is different and the one thing that should be in common is their respect for people.

• Philippines
2 Aug 12
I'll probably just sit and listen.. because I think they will find out for themselves that my culture isn't bad at all..

• United States
2 Aug 12
I might be hurt by it because either they don't know what is going on or they are just wanting to see what they want to see and hearing what they want to hear about it. I wouldn't talk bad about another persons culture. I would go on with what ever I was doing and just walk away because I'm not going to start a fight with people I don't know about things.

• Boise, Idaho
1 Aug 12
I would turn around and give them an agast look ATLEAST. Foreigners are just that--foreign. Foreign to Americas ways and means. Ofcourse as America has become I may tend to agree with them so I may or may not do anything to these foreigners. I am an American and I am proud to be one BUT, America has really gone down the tube in a lot of ways over the last few years. I might be setting right there with them criticizing my own culture.