Banana and plantain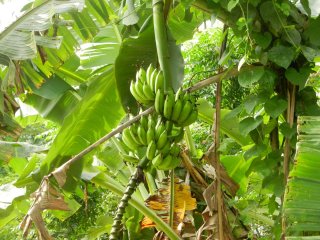 India
August 2, 2012 8:33am CST
Honestly speaking I don't know the difference between the two. In our market we get banana (or plantain) in 2 different types; one is for eating when ripe and the other to cook and eat. This second kind; even if you keep for days usually doesn't get ripened, the skin may look yellowish but they are not sweet at all if one eats!!! Some have big seeds inside

. The traders keep these in gunny bags , put pieces of Calcium Carbide and spray with water; the emerging gases make them look ripen; but no taste. This technique they adopt with raw mangoes too. [b]So what is the difference between banana and plantain? I have a tree as shown in picture, is it banana or plantain?[/b] I and Professor don't eat ripe banana and mango because of diabetes; but we are fond of banana curry. [b]We eat chutney made from green raw mango with salt. What about you, do you enjoy eating ripe banana, ripe mango or banana curry and mango 'chutney'? Please share your story.[/b]
Kalyani

[i][/i]
5 responses

• India
2 Aug 12
Hullo Kalyani! You have given the answer yourself.The one meant for cooking and eating as a vegetable is a plantain and the other one is a banana. "What is a Plantain? Plantains vs. Bananas? What is a Plantain? • The Difference between Plantains & Bananas • Nutritional Information What is a Plantain? Plantains are a member of the banana family. They are a starchy, low in sugar variety that is cooked before serving as it is unsuitable raw. It is used in many savory dishes somewhat like a potato would be used and is very popular in Western Africa and the Caribbean countries. It is usually fried or baked. Plantains are native to India and are grown most widely in tropical climates. Plantains are sometimes referred to as the pasta and potatoes of the Caribbean. Sold in the fresh produce section of the supermarket, they usually resemble green bananas but ripe plantains may be black in color. This vegetable-banana can be eaten and tastes different at every stage of development. The interior color of the fruit will remain creamy, yellowish or lightly pink. When the peel is green to yellow, the flavor of the flesh is bland and its texture is starchy. As the peel changes to brown or black, it has a sweeter flavor and more of a banana aroma, but still keeps a firm shape when cooked. The plantain averages about 65% moisture content and the banana averages about 83% moisture content. Since hydrolysis, the process by which starches are converted to sugars, acts fastest in fruit of higher moisture content it converts starches to sugars faster in bananas than it does in plantains. A banana is ready to eat when the skin is yellow whereas a plantain is not ready to eat "out of hand" until hydrolysis has progressed to the point where the skin is almost black. Plantains grow best in areas with constant warm temperatures and protection from strong winds. They have been grown in scattered locations throughout Florida since the 16th century. Because of the occasional freezes, Florida is considered a marginal area for plantain production. They are available year round in the supermarket. Plantains Starchy Used as a vegetable Longer than bananas Thicker skin Resemble green bananas, but may be green, yellow or black Bananas Starchy Used as a vegetable Longer than bananas Thicker skin Color is green when not fully ripe, yellow when ripe lINK-http://grabemsnacks.com/what-is-a-plantain.html We eat the vegetable and fruit too.

• India
3 Aug 12
Hai Kalav, even I did not know the difference between banana and plantain. You have given a very vivid answer on this topic. Thanks a lot. I am sure it will be useful to many in mylot.

• India
4 Aug 12
Great information, i am sure it will be useful to all, i have saved it. Thanks dear Kala



• India
22 Aug 12
Wooo kalav what a nice explanation thanks for sharing now I also understand the difference between these two. I dont know about plaintan but now understand.

• United States
2 Aug 12
I don't know whether the picture is a banana tree or a plantain tree because I'm not familiar enough with either. Plantains never get sweet, though, from what I understand. I am very familiar with bananas and eat them often. The riper they are, the sweeter they are and they ripen at room temperature. We often buy them green and let them ripen so we can eat them at the state of ripeness that we like. I have never tried plantain at all.

• India
4 Aug 12
Do they ripe of their own ? Happy posting, cheers. Kalyani

• Philippines
3 Aug 12
In the Philippines, it's all called banana, the one for cooking and making sweets is called "saba" and the rest are all "saging" or banana although there are many varieties like "lakatan", "latundnan" etc... and the smaller senorita. The one with lots of seeds is similar to "saba" but redder in color, it is found mostly in the mountains but are getting harder to find, actually they are wild bananas and people love to tease you "monkey" if you eat one cause that is what monkeys here eat in the jungles

, although they are considered more nutritious and free from pesticides. Almost all Philippine bananas are good and nutritious

so that is something we are proud of. It's hard to identify banana simply on picture, a long time ago, I went mountain climbing on one of the Southern provinces and in one of the places there, I saw what I thought were banana trees but they were "abaca" trees (Manila hemp) or the ones they use for making rope, they look so similar except abaca i think does not bear fruits.

• India
4 Aug 12
Thanks for the details; here too they make ropes; today i read in newspaper that they made sari using the fiber in plantain trunks. Happy posting, cheers. Kalyani

• India
3 Aug 12
I too am diabetic so cannot eat more of banana or mango. But you can eat one small banana every day and once in a while you can eat mango. I love them a lot and eat periodically. Even raw banana curry is very tasty and I bought raw banana yesterday. I will make avial with that today. Thanks for sharing your thoughts of my interest.

• India
4 Aug 12
Swarnaji

So we can eat one small ripe banana, am glad to hear this. Banana curry and banana fry is our favorite, my son at Hyderabad send banana chips to us, i deep fry and sprinke black salt

.

• United States
23 Aug 12
I do not eat banana because I have allergic reaction but I can eat plantain without problem. I'm not sure if it's because of the cooking process that helps but I believe so or maybe it simply does not contain what I am allergic to because it is different from banana.