What's your favorite line?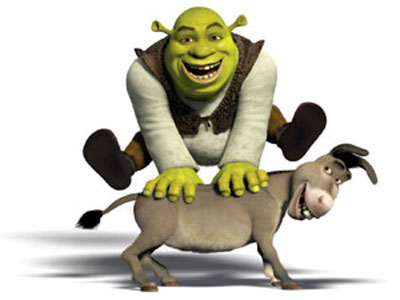 Philippines
August 3, 2012 2:00am CST
Shrek is an ogre. An ugly ogre,yet kind at heart. Shrek is a 2001 American computer-animated fantasy,comedy film.. I love watching this Shrek and Donkey because they'er so hilarious and makes me laugh all the time Donkey speak.. I have a lot of favorite quotes or line from that movie.. I will share one of my favorite lines.. Shrek: Why are you following me? Donkey: Oh! I'll tell you why donkey starts to sing---- Donkey: Cause I'm alone,There's no one beside me,My problems have all gone,There's no one to deride me,but you gotta have friends Shrek: stop singing!!! well , it's no wonder you don't have friends! Donkey: wow,only a true friend would be that truly honest..!!!... What about you..Do you have any favorite line???
5 responses

• Philippines
6 Aug 12
hi litvillegas, once in the air Donkey utters the famous line " You might have seen a housefly,maybe even a superfly, but I bet you ain't never seen a donkey fly! " and a legend is immediately born! hehehe

• Philippines
6 Aug 12
lol....yeah,,that's really funny too thanks chariedeancubar have a great day

• Philippines
3 Aug 12
haha I love Shrek too! I especially like the one where they got all the fairy tale princesses in the movie and sleeping beauty just sleeps almost all the time. But for me, the Donkey is the most funniest of all.. this is my favorite line: Shrek: People are like onions. Donkey: They stink? Shrek: No, they have layers. Donkey: Oh, I see. You let them out in the sun and they brown all day and then you have little white things sprouting from all of them. hahaha

• Philippines
6 Aug 12
hi barbiesacol88 lol,,yeah I like that line too... donkey rocks...!!!!hehehhe

• Philippines
5 Aug 12
I always remember the line"Great powers comes with great responsibility". the line of spiderman.

• India
3 Aug 12
I watched shrek in hindi. my favorite line is by the donkey to shrek "ae gadha kisko bola?" as in did u just call me a donkey? hehe donkey believes himself to be a horse so he feels bad when shrek addresses him as a donkey! - when they were traveling to faraway land, donkey keeps asking, pauche kya? (have we reached?) and shrek keeps replying no. i find donkey's lines very cute and adorable.