webcam awkwardness, yes or no?

Slovenia
August 3, 2012 8:20pm CST
I was wondering, how many of you actually use a webcam? I'm in a long distance relationship, I got a laptop with a webcam for my boyfriend, but I never liked it, still don't, st I dont have a luxury of having my own room, so I'm basically stuck in a living room where my mom and brothers are all the time, so even if I want to be on cam which I already don't like and makes me nervous then there's still them with me and I obviously can't be relaxed on cam and the fact of someone watching you over cam is just weird to me, im a lot better meeting in person. And I try, I try so much to make my boyfriend happy and cam with him once in awhile, but sometimes we fight about it and I know it's hard cause he cant see me physically, but dont you just hate how cam just takes over ldr relationships nowadays? its like without it you cant last, even my boyfriend threw that at me, he said if u think only your pics on facebook are enough for me you are wrong...and it makes me said, the importance camera gets. He knows Im not confortable on it, still he wants it and its bad that he sometimes says I never turn it on, like he doesnt even appreciate the times when I DO turn it on JUST FOR HIM knowing that i dont like it. and there's one more thing, online friends, some want me to be on cam and if I'm uncomfortable with my boyfriend (either cause of family being in the same room all time or just plain feeling strange/weird with the idea) with them I'm even more, they're just online friends and some accuse me that I don't trust them if I don't turn it on, that hurts. Don't u think? What's your idea about webcam and using it?
11 responses

• Philippines
4 Aug 12
Good luck to you ap0calyptic!

Long Distance Relationship is already hard and this webcam thing adds more pressure.

If we look at your boyfriend's point of view, maybe he just misses you so much or maybe he wants to see your physical reaction whenever you chat. Maybe he wants to know if your feelings are still real or whatsoever (based on your facial reaction).. On the other hand, if he has been considerate and caring, he would have not make you do things you are uncomfortable with. Somehow you have to meet halfway. If you would like to risk your emotional feelings (for the sake of making the ldr work) and if you are willing to sacrifice for him, then just do the webcam thing otherwise explain to him what you really feel and if he truly love you, he should understand and it would be his turn to adjust to make things work for your long distance love.


• Slovenia
5 Aug 12
Thanks a lot for nice wishes. You are right, thats his issue, he said once he has to see me, he misses me, he can't hug me or kiss me and if he doesn't see me he says 'I forget how your face looks like' I know this is not meant in a bad way as weird as it may sound as he has kinda hard time expressing himself properly being english not being his native language, nor mine. And yes, I try to do the webcam thing as often as possible when I can, I just wish he'd appreciate it more sometimes.

• Philippines
6 Aug 12
Tell him that then

. You are right, he should be appreciative since you are doing some thing that you are uncomfortable doing.

Make sure to always have your communication open, it is hard to be on a long distance relationship but I believe you can make it work by continuous open communication. Stop wishing something, instead tell him about it and see what you two can work together on


• Slovenia
23 Sep 12
thanks a lot. i try as much as i can to always tzell him my opinions, cause i know how importanr communication in a relationship like this is, i know he doesnt always like it, that language is a barrier sometimes, but im trying. :)


• Philippines
4 Aug 12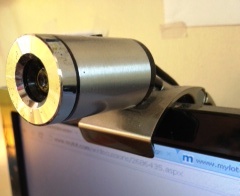 My partner and I are in a ldr as well but we do meet up every few months or so. I see the webcam as something that I am happy about. I guess it's different with ours because we don't really go talking for the whole day together, we just turn it on so that we could see each other while we do other things (cooking, watching tv, doing something online, MyLot, etc.) so it's a comfortable way for us to 'be with each other'. I think over time, you could learn to appreciate the webcam - most especially if you've been together a long time and you've met each other frequently. However, I think the mere face that you're in the family room makes it more awkward. I guess I'm just lucky because I got mine in my room, so there's more 'privacy'. How bout you taking the pc to your room instead? Have a great MylOt experience ahead!

• Slovenia
4 Aug 12
Nice to meet someone who's also in the ldr waters :) however, I'm glad to hear you're having a great experience and about meeting, you're lucky, we live countries apart so its not that easy to go and meet and we didnt do it yet. and its a nice idea having cam on while doing your usual chores, for me, we do it when talking, so its tottaly different. Yes the fact about being with family may be the problem, but as I said even alone I don't feel so comfrotable, I guess i just have some cam repulsion and I cant shake it off :D

• Philippines
4 Aug 12
Ah I think the main reason here is the fact that you haven't met this guy yet. You should have opted that he meet you and your family first prior to becoming his girlfriend. It would be more comfortable that way because you know the person better than just online. But well, time has its way of keeping relationships that are right for you. You take care and hoping for the best.

• Slovenia
23 Sep 12
Thank you for your input. you may be right, but we are together already for over 9 months, in this time I think i could say i know him quite well, though im aware we still gotta meet to complete 'the picture' and im working on that visit, now only if money wasnt tight it would go a lot easier :) and thanks a lot for your good wishes. same to you.



• Philippines
6 Aug 12
It's a good thing you have a stand! That is very commendable

But sometimes when you love a person, some of your beliefs are swayed and when you are truly head over heels in-love, you'd do things you thought you couldn't do.


• Slovenia
23 Sep 12
true, very true, love tests your patience and all, your beliefs and principles can really get swayed away to the point where you question yourself if you are still the same person, but in love we have to do somoe sacrificing, if we want it to work out, right? :)

• Philippines
13 Oct 12
It is very funny when we fall out of love, we'd think back wondering how the *bell did we make ourselves do crazy things


• United States
4 Aug 12
First of all he is rude and controlling when he said that your pics on facebook aren't enough for him and that he doesn't understand how you feel about being on cam is also very rude. If he is like this now how will he be when you finally do meet face to face and he wants something and you don't. Do you see where I'm going? I worry this bf is too controlling already. I just don't think a long distance romance can work anyways, it hasn't for me that well. I'm sorry you have to share your living space like that too with your family breathing over your shoulder all the time, that can't be comfortable either. I would not be comfortable with it either and I'm much older. I used to use web cams and had to deal with the mess behind me in the dining room from other family members. I had to tell one friend that it wasn't my jackets or coats hanging all over the chairs, it was my brother's. I wasn't getting the blame for doing that. My mother still think I'm the one who left my clothes all over the house long ago and I never did that. She almost told someone out loud, and straight out lied about me. I don't wear coats that are a man's coat or jacket, sorry.

• Slovenia
4 Aug 12
Thanks for you input :) I see where you're going, but as I said before, I try to look from his view and maybe he just needs more visual, after all he is a man, they are visual creatures, right. However, I am aware of his controlling, I'm trying to tone it down and thats where usually fights arise, but all that aside, he can listen when I want him to, stubborn, but tries too. Besides, people usually are not very much the same as they act online no? I see it for myslef I'm not so much cnflicting when online I can easily get angry and start to fight if I dont like soemthing, I think in real life thats much easier to maintain than through internet, no? As far as ldr's go, patience and trust and communication are the keys, but I cant say either it always works, my past one didnt... As far as living with faily goes, yes, its not exactly comfortable but at least I can be happy I have someone to talk to all the time if I wish so, right, so not all bad about it :) Thats an awkward experience you had too, I'm sorry to hear it, but I'm glad you are past those days, I hope. :)

• United States
4 Aug 12
Yes they are visual creatures you are right but for him to force you to do something like that only shows what his character is like.You should be the one in control and not him. The best marriages are always the ones in which the female is in charge so they say. I might be old fashioned but when a man feels he is in charge I feel he is less of a man indeed. Yes somethings are easier to sort out in person and not through the Internet I agree. Maybe if you were forward on him with some things he would back off more. Yes awkward experiences in my family, I've had many. :P

• Slovenia
5 Aug 12
It's not like forcing, but like he makes me feel bad after if I like refuse him he gets all sad and says how can I be like this to him, you know. You may be right, and I don't like to be controlled, but being solely in charge is not exactly good either, I believe where both have the equal control, it goes better, but thats just me. And yes, I do try to be as forward as I can even though he's not exactly very talkative when I bring up serious subject.

• United States
4 Aug 12
First of all your boyfriend is giving you clear signals that he is not a good guy. Long distance relationships are hard and nothing replaces physical contact, so after a while the webcam wouldn't even make him happy. If he's putting that much pressure on you now, the best thing to do is end the relationship. If you don't feel comfortable on the webcam, don't use it. Perhaps when you get more privacy you will feel better about it.

• Slovenia
4 Aug 12
Hello there! thanks for your input, well, I'm cautious, believe me, even if I love him, and even after 8 months in a ldr and not meeting him yet, I still am and will be cautious. You got a point there, but then again I cant exactly go attacking him telling him he's not serious if he makes cam important too in our relationship, in a way I'd be selfish then, no? and you may have a point there with more privacy, but still the feeling stays, even when home alone and I'd turn on cam for him, still I got that feeling, you know that feeling when you watch your every move, like to look as normal as possible?cause you know through cam you can easily look quite strange or crazy, which in real you can too, but much less and then you know we intorverts process EVERYTHING again and again :D

• United States
4 Aug 12
You would only be selfish if you tried to make him do something he was uncomfortable with. His pressure does not help the situation in the slightest. If anything it's probably making you more resistant to the idea, and I wouldn't be surprised if he started becoming openly hostile towards you in a short period of time. I hope I'm wrong cause I believe everyone deserves love, but I recognize the signs when I see them.

• Slovenia
5 Aug 12
Well all I can say is thanks a lot for being honest and for the advice, I appreciate it. :)

• Philippines
4 Aug 12
I know how it feels, it was really awkward chatting with your boyfriend and he wants to have a cam with you while unfortunately you are with your family. I do that for how many times and I really cant breath on that time because I'm laughing with my boyfriend then my mom started to look at me. And I notice they looking at my screen then I started to panic too hahaha so i'm very conservative on my looks and I feel im ugly when I panic, ahh don't wanna remember that hehe, well I suggest go to your room instead.

• Slovenia
5 Aug 12
Hello! Thank you and I'm glad someone here can relate at last :) its exactly how you said it. as for going to my room, thats the thing, this is a 2 room flat, so its like a living room and bedroom, my bed is in living room where usually my family is at day and till night, obviously, so that kinda doesn't work for me :D

• United States
4 Aug 12
I have a solution for the situation with your boyfriend. How long does your webcam record? I know it does. Make like a five minute video of you just saying Hi, that you miss him. Maybe tell him about things new with you he hasn't heard etc.. something to make him smile. He sees you on cam but NOT live.. Don't tell him you're going to do it just do it and then next time you're iming him tell him you've sent him an email and send the video as an attatchment in his email. As for the online friends, no good, I don't like that. They shouldn't be pressing you.

• Slovenia
5 Aug 12
hey! thanks for the solution which I aleready kinda used a few times already even prior to getting this cam for him I made those videos saying hi and stuff, but he still always said he prefers live video..so this solution is kina not working for me I guess, but thank you anyway:)

• Manchester, England
13 Oct 12
I have never really bothered much with webcams. I have one for the desktop computer and there is another integrated into my laptop, but I have not used one for a long time. I am quite comfortable with the experience, but I do not have any real use for it. If I had friends or family in another country then I probably use it. As it is I have only used mine for things such as taking my own photograph.

• United States
9 Aug 12
I have never used a Webcam or even Skype for that matter. i would imagine it would be awkward if you didn't know the person you were web-camming with. But I have heard of a lot of friends & boyfriends/girlfriends Skyping back and forth - that seems more comfortable!

• India
4 Aug 12
Nice to know about your story, it is really hard to have Web cam chat if people is in our surrounding, as you mentioned your family members are always around you, it is really hard to use it. Web camera is really a great gift for the persons who are living for away from their beloved persons, using web camera we can see them easily even though we are living far away from our dear persons and have a virtual chat and enjoyment with them. Most of us having experience with web camera chat, since it is quite common now a days. Using web camera we can see our online friends and have fun with them, even we can see the unseen persons with it, i.e we don't have the ability to see our online friends if they are living in different countries, but while using web camera, we can see them easily in the virtual manner. Really it is a great invention which allows us to see our beloved persons in virtual manner even though they are in different part of the world, as we know internet shortened the world and we have the ability to make friendship with any country person, if we are interested in seeing our online friends, we can use web cam to see them in virtual manner and we can see them instantly regardless of the distance, i.e we can see any person living in any other country in the world using this web camera. It is the best tool that integrates the long distance relationship. Without web camera we don't have the ability to see the person who is living far away from us.

• Lenox, Georgia
4 Aug 12
I agree with you. I am not a person who likes to be video taped or on the webcam. I don't mind pictures but live is what bothers me I guess. I don't really like it, its an uncomfortable feeling. And if people were in the same room that would be even more difficult for me. I totally understand where your coming from. I hope your boyfriend understands more...Some people don't like certain things.