Exotic foods: yummylicious?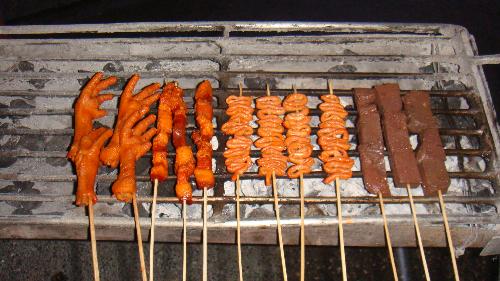 Philippines
August 3, 2012 9:39pm CST
Have you ever tried to eat street foods? The picture showed the variety of street foods that can be seen and sold in the Philippines. Definitely, some people will say yummy for this. On the other hand, I am sure most of people will react differently if they seen one. It is inevitable that reactions can be amazing or disgusted. Some countries have this kind of food, I might also react the same thing with the others. There are some, they tried it for the sake of experience. Things like this is a worth of having an adventure lifestyle. Would you like to taste one of this?
7 responses

• Denmark
4 Aug 12
I would like to taste the street food from the Philippines

I am not sure what the food of the picture consists of, but I think that it looks nice and I would be willing to try at least once. If I don't like I won't eat it more than once, but I love to try it since you can't find that kind of street food in my own country. When I travel I love to eat the local food, and I think it is interesting to experience a kind of food that I am not used to. I have tasted a lot of delicious dishes abroad and I will continue to eat the local food when I travel.

• Philippines
27 Apr 13
In the we Philippines some of us eat farm rat, snake, one day old fried chick "a newly hatch chick", chicken head that before you eat it you can see the eyes stare at you hahaha. and also fruit bat.

• Philippines
27 Apr 13
I am Filipino and I can barely say yummy to that :) but I make sure that they prepared it clean and safe before I buy it. I love to it "IUD" a stomach of chicken.. I don't like "BETAMAX" it is blood a clotted grilled blood.

• Philippines
5 Aug 12
Yes I've tried to eat street foods like chicken feet, chicken head, quial eggs, fish balls and hotdogs before but when my nephew got sick due to eating street foods I decided to avoid it as much as possible for health safety reason. I know that lots of delicious street foods but better to think twice before we try it and look if its clean or not to prevent any food borne diseases.

• United States
5 Aug 12
I have tried street food when I lived in South Korea and I loved it! I was similiar to the foods I was accustomed to when I was a child. I do not think street food is appealing to everyone but I do think that there are some who try it just to get a taste of the local foods.

• United States
4 Aug 12
I am not really a big fun of our street foods, but I admit that I have eaten my share of isaw and balut (minus the chick ewww!). They're actually yummy if cooked and handled properly. But too much of anything is also harmful, more so in street foods. There could be health hazards posed by a constant diet of street foods. My little sister got typhoid fever from eating street foods.

• Philippines
4 Aug 12
In every country or even every region in each country have their own exotic foods. Like here in our country, Philippines, it is normal to have those food sold on the streets while foreigner look at it as gross. But when you tried to go to their country, there are also foods there that you will find gross for you. Given a chance to get to other country and have a taste of their exotic food, I will be willing to taste it for experience. Last night, I used to eat "isaw" (chicken intestine) dipped in spicy vinegar. Yum.yum.

• United States
4 Aug 12
I'd love to taste one of those how often do you get a chance to try... Whatever one of those are, haha. I know I love the exotic foods in Sushi Bars and such, eating raw squid is good why not... Chicken feet? Haha, I love that kind of stuff and maybe I won't but at least I would be able to say I've eaten it before!