I want to see him on his first birthday party but I can't make it...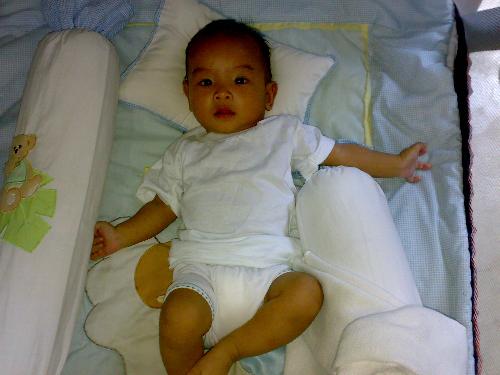 Philippines
August 4, 2012 11:33pm CST
My nephew turning 1 year old this coming Friday, I am very excited to see him and want to attend his party but due to my appointment with my ob-gyne I can't make it. Hope that my sister will understand it and I will just send my birthday present this coming Thrursday so that they can received it on Friday morning before the party. What do you think my fellow mylotter friends? Have a nice day!
7 responses

• Philippines
5 Aug 12
You can have an appointment earlier to your doctor maybe you will be finish there after the celebration started. Or you can go there at your free time it is better late than never.


• Philippines
5 Aug 12
The party will going to start around 1 pm, they live in Tarlac and my appointment is 3 pm, I really can't make it, this appointment is very important to us since my husband and I really want to have a baby soon. I just wis they celebrate the party here in the city so that we can attend.

• Philippines
5 Aug 12
Ohh it is really impossible, you really can't make it. But I hope they will understand you for that.


• Philippines
5 Aug 12
I am hoping too that they will understand me. Also hoping they will accept my invitation to come over on Saturday so that we can celebrate his part 2 birthday party here.



• Philippines
11 Aug 12
I agree with you I will prepare for something special for him next year and trying to make it unforgetable. Thank you mikyung.


• Philippines
5 Aug 12
Thank you for the nice response. Have a nice day!

• United States
5 Aug 12
I would try to see him either Thursday or Friday before your appointment. I am sure he will be happy to see your regardless. A one year old doesn't really understand birthday parties. They mostly look overwhelmed the entire time. First birthday parties are more for the parents than the kids.

• Philippines
5 Aug 12
I am working from Monday to Friday and they lived in the 3 to 4 hours aways from my place, maybe I could visit him on Saturday or just ask them to come here and sleep over night in our house.

• Philippines
5 Aug 12
You could probably talk to your doctor to re-schedule your appointment. I believe she'll understand since she handles most of the mother-child situations. It would be priceless seeing your nephew smile if everybody's singing him happy birthday.

• Philippines
5 Aug 12
If I am going to re-schedule my appointment, i need to wait for another one month before I will start my ovulation monitoring and pcos treatment again. The only best options in my mind now is to asked my sister to celebrate the birthday party here and were going to pay for it, so that my husband and I can able with my nephew first birthday.

• Philippines
5 Aug 12
hi bhebelen, My nephew is 4 months old and I need to wait 8 more months to see him turn 1 I am really excited to that day. If you think you can't cancel your appointment and it will be hassle for you I think your sister can understand that. But being her aunt your presence will be much appreciated happy mylotting


• Philippines
5 Aug 12
I really want to be there for him since its his first birthday and he is very important to me. Before the party they schedule Aug. 11 which is Saturday and I am available but for some reason they change it to Friday and I can't really make it.


• United States
5 Aug 12
I fit were me I would change the date of the appointment and go to the party. he only turns one once in his life. or go to the appointment andhead to the party later on.

• Philippines
5 Aug 12
How I wish I can change the date of the appointment to my ob-gyne but its very impossible and if I go to my hometown it takes 3 to 4 hours before I can get there. I am just hoping that they going to celebrate his birthday here in the city since most of there guest are from here.