He arrived safe but he walked in a flooded street..

Philippines
August 6, 2012 9:54pm CST
My husband arrived this morning wet and cold because he walk on the flooded street just to reach our home because no available public vehicle and car can't use too due to flooded street which above the knee. I am just glad he arrived home safely,still smiling and singing. I asked him to take a warm bath immediately and wash his body very well to flush out all the bacteria he might got in flood water. I am hoping the flood will gone this afternoon or even tonight because I am so worried that he might walk in flooded street again when he go to his office this evening.
10 responses


• Philippines
7 Aug 12
In our place the streets are flooded above the knee also and his office is 1km away from our place. Thank you for sharing

• Philippines
10 Aug 12
Thank God your husband was able to arrive safely in your house despite of the flooded surroundings in Manila. I saw the situation on TV and i am worried because it's seriously dangerous. I pray that the rain will stop so that the people their including your family can already go back to the usual routine. Hope you are all safe friend. God bless. :)

• Philippines
11 Aug 12
Thank you my friend, were safe now and no more floods. Our life back to normal but lots of things need to clean, replace and fix. Have a nice day!

• Philippines
8 Aug 12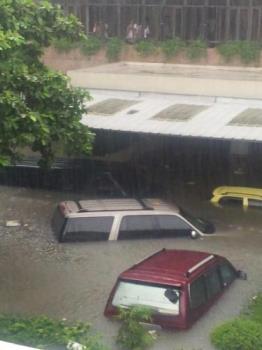 Many were unable to go to work yesterday. All of us stayed home yesterday. We did not really go to work because it was flooding all over and we were afraid we might just be stranded because we saw how on TV the stranded buses and cars on the road. They were almost eaten up by water and could not longer move. So your husband was among those who were caught up in the mist of the flood. Thank God he arrived safe.

He braved the flood and came home well and happy. What a beautiful spirit your husband has! Good for him! Next time I think he should rather stay home when it is flooded. It was so risky to go out when it is flooding.


• Philippines
8 Aug 12
I got mad when I know he walked on the flood but when I saw him my heart melt and my worries gone because he is safe. Last night in our area still have floods I asked him not to go to work but they called him and need him in work badly since lots of his co-workers can't able to make it. Thanks

• Philippines
7 Aug 12
Thank God that your husband is safe. He is nice to have that kind of attitude despite what he experienced. I actually was not able to go to work today because our streets are still flooded. I am thinking to report to work this afternoon if the weather would calm. Have a safe day.

• Philippines
8 Aug 12
I agree, much better to stay home than to walk in flooded street. Thank you for sharing.

• United States
7 Aug 12
wow, sorry you guys are having such bad floods...That must be a mess...I can imagine so so many people were in the same situtation as your hubby... Its good he made it home safe....I am sure there are manu obstacles in walking in floods like that... Hope relief comes soon.....

• Philippines
8 Aug 12
Yes, its really a mess but I am very thankful that he arrived home safe. Thank you.

• Canada
7 Aug 12
You guys are not having such luck for flooded street, if you are in town that make things worse I guest. Hope for you that the problem is solve quickly, so it is not an adventure to go to work for your husband. If you have a boat it wood go faster,if water level is high enough. Good luck again.

• Philippines
7 Aug 12
Wow, you are so caring. We really need to take care for each other. Our loved ones, thay are precious and I'm, for one, afraid to see them sick, that's why i'm doing my best to work for their welfare and betterment. good luck. Hope this bad weather ends. Thanks

• Philippines
8 Aug 12
Thank you, I always love to take care my husband and don't want to get him sick and harm.

• Philippines
7 Aug 12
hi bhebelen, Glad that he is still able to went home cause many people are stranded till now be safe

• United States
7 Aug 12
I am glad he was alright after walking all that way to get home. It could have been more dangerous and I am sure you were frightened when he got inside. Well I will hope and say a little prayer for the waters to go down so that he will not have to walk through it to get to and from his work.

• Philippines
7 Aug 12
Thank you echoforever. I am praying and hopng too that the rain will stop and the flood will gone. Have a nice day

• United States
7 Aug 12
What a sweet man to be still smiling and singing despite having to walk in flooded water!!We have only had real serious flooding where I live once and it was horrible. I walked in it too, trying to help my daughter who was maybe 10 or 11 at the time, deliver her papers. We got some of them delivered but when it got up to almost her waist, we called it quits. And do you know that there were a couple of older ladies who called her boss and complained that she hadn't delivered the paper!!! We went out a couple of days later when the water had subsided some. At one point it was up to my waist and I'm 5'7! One lady actually started yelling at us and telling us there was no excuse why we should not have delivered her paper! Anyway, your husband sounds like a real sweet man.

• Philippines
7 Aug 12
You're right he very sweet and a happy person. I also asked him why he smile and sing despite of everything but according to him, he better to sing and smile than to feel the cold that makes him chills. Thank you for sharing!