Cazorla signs for Arsenal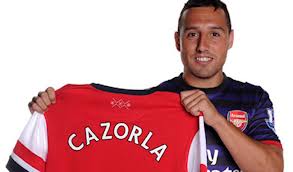 Singapore
August 7, 2012 6:24am CST
The Spanish international completes his move to the Emirates Stadium. The £15 million capture from Malaga joins the Arsenal squad for the friendly against Cologne. This is the third signings after Podolski and Giroud. These clearing show Wenger's intent for the coming season.
5 responses

• Malaysia
8 Aug 12
It was a good news for all the Gunners out there. It has been a while when we spent on 3 players worth 10 Million plus. I cannot remember the last time Arsene Wenger spend like this or does he ever spend like this. What good news is we might see more players coming depend on who will go out of the squad. What infuriate me is Barcelona done it again by trying to unsettle our player again. Now it is Alex Song. Hope the deal won't go through.

• Indonesia
8 Aug 12
This is the third purchase by Arsenal after recruit Lukas Podolski and Giroud. This purchase is the most expensive purchase of Arsenal in their history after Andrei Arshavin transfer in 2009, then. There is also news that Santi Cazorla purchases made ??Robin Van Persie in Arsenal's last chill.

• Singapore
8 Aug 12
Wenger's recent movements in the market is definitely different from his past dealings. He is willing to spend more on experience players than the cheap young potentials. It goes to show either Wenger has decided to drop his previous project of investing only in young players or the board had no money previously and Wenger is scrapping at the bottom of the barrel.

• Malaysia
7 Aug 12
hurry...Arsenal coming for the champions with the cazorla, giroude, podolski... i think the other club like Man Utd or City will think twice about Arsenal to be their rival.

• Singapore
8 Aug 12
While the three signings have been some buzz into the squad, there are still some ways to go before addressing the problems facing the squad. The attacking part is more or less settled and strengthen. But they are works to be done in the midfield and defence area. While Vermaelen and Koscielny are great defenders on their day, they are prone to the lapse of concentration and can be very bad. As for midfield, depending on the formation, they only have Song and Arteta holding the forte. If one of them is out, then that is when they will be open apart.

• United States
16 Aug 12
This is a good signing for Arsenal. They need someone who has stregnth and creativity in the middle of the pitch. It won't replace Cesc, but it is an improvement. Ramsey and Wilshire are better wide players, Song looks like he's leaving... which I think is a huge loss if he does... I don't see arsenal doing much this season even though Podolski is a great finisher and has good pace. He can't keep up the same level of production as RVP did. What Arsenal need is a good few years where there best players aren't sold off... they became a feeder club to Man City--Adebayor, Toure, Nasri, Clichy... all left... Fabregas left for Barca, RVP to Man U... Wenger's system of growing young talent won't work if the club keep having to sell them...