Vampire Diaries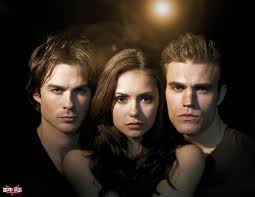 Philippines
August 7, 2012 10:08pm CST
Vampire Diaries is an interesting movie series, it has a lot of twist. You can never tell who will really win. The Salvatorre brothers or the Klaus clan. In this movie, I learn the essence of unity, forgiveness and humanity. Though they are vampires but humanity is within them. Another thing is that they have a word of honor. I am very much excited for the upcoming Season4 what will happen?
6 responses

• Philippines
9 Aug 12
Oh,,thanks for sharing this idea.. I'm exited to watch now..I will try to watch this movie series..

• Philippines
30 Aug 12
Yes, lit if you will watch that movie; one thing is for certain you will never regret. Enjoy watching.

• Philippines
30 Aug 12
Ok,,thanks myfriend, but I guess I'm too busy in mylot now. I suppose to watch that movie the day you introduce that but I can't get my eyes here..:) What should I do?? :(.. Perhaps I will borrow a dvd so I can watch it at home every weekend....lol

• United States
25 Aug 12
I love this show , I love the action and the fighting scene . I cannot wait for the new season to start .

• Philippines
30 Aug 12
well, this movie is indeed exciting. Hope the 4th season will be a happy ending.


• Philippines
30 Aug 12
Well, hearing the news that Elena will become a vampire sounds exciting. I'm excited to see Elena's behavior. Will she kill people or will she discipline herself and control her emotion and desire to kill and drink blood of the human. I would be happy if Elena would choose Stefan. Will I like Damon too but his sometimes really a womanizer :D


• Philippines
30 Aug 12
Well, Klaus became a nice guy during the 3rd season but his being rude will over power him, and that's I don't like. I like the Salvatore as always. In other way, perhaps Klaus will become good, for he's in love with Caroline :D

• United Arab Emirates
8 Aug 12
Hi, Elena is going to be a vampire in the next season, i guess. I am wondering how will she behave as vampire but judging by the promo I'd watched she will be a tough one. I am just hoping she will stay in the salvatore side. I wish no more love triangle it irritates me sometimes. I can't believe how fans are fighting with each other in you tube to show which pair is better. Some are even cursing at each other, funny but not funny at all. ;P

• Philippines
30 Aug 12
Oh, no! if Elena will become a tough vampire and she'll take side to Klaus that would be the end of the Salvatore they can't fight back Elena because of the love they have. Even if they are vampires but their humanity sometimes rule over them when they are in love. Yah, right hope no more love triangle. Elena must be strong enough to choose.

• India
8 Aug 12
i think klaus clan will make a dramatic statement in the finale episode.that is what the rumours are floating around,no one is right now sure about the path,lets hope its good and appealing in the upcoming season also




• Philippines
8 Aug 12
hopefully the ending of this story will be good. I am afraid, another twist will come and Helena will become Klaus lover :D