flood on wedding day

Philippines
6 responses

• China
15 Aug 12
It doesn't matter whether it rains or not on wedding day. My grandma tells me that if it rains heavily on wedding day , that means the bride is very fierce and the groom will listen to her all his life.

• Philippines
18 Aug 12
wow...how i wish it would rain so heavily on my weding day :)

• Philippines
15 Aug 12
wow..I'm amaze with the picture.. well,if that happen I guess I will postpone my wedding..:).. I'm concern with my family,friends,relatives and visors.. It might harm their health.. I mean our health..

• Philippines
15 Aug 12
i was laso amazed when i saw that picture. maybe they were really so inlove and couldn't wait to be wed so doesn't care the weather at all


• Philippines
11 Aug 12
well .. it all depends on the couple in that situation. after all, wedding is not for the guest but for them.

• Philippines
10 Aug 12
i believe cancelling then re-scheduling a wedding on its original date is not a good idea. well for me, honestly speaking, the typhoon, or regardless how heavy the rain is or whatever "disaster" comes before them (the couple), CAN be the very first test/challenge as a new husband and wife, that they should pass. if you do not possess the "palabra de honor" attitude, then what more if problems arises?

• Philippines
10 Aug 12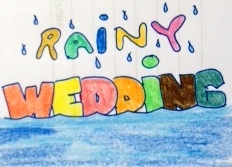 I think it takes a lot of humor and frenzy for this couple to stand in the flood but I think it's great. It's great because they didn't let the floods hinder their romance, I hope that their family life and partnership would stay as solid and as relaxed as their first kiss as husband and wife! For me, I think they did good. I think we shouldn't let the rain hinder our happiness. Which is usually why wedding planners have "back-up" plans. However, I think I'd have second thoughts with my wedding if there's a flood in my place. Most especially if the typhoon is really crumpling the city. But well, I guess it could go on still. It's only a matter of decision as a couple. Have a great MyLot experience ahead!

• Philippines
10 Aug 12
hi Laydee. yes maybe it would really be tough decision to continue the wedding even if the weather is not really that good or is very bad. but on the other hand, what they is such a very sweet thing.

• Philippines
20 Aug 12
It's funny coz there was really a typhoon during the wedding day of my sister last year. Most of streets were flooded and there were parts in our area that has no electricity. But despite the huge typhoon that came, the wedding pursued. Guests were not that important, though it would always be happy to share important events with people who are close to you. But what really matters is the person waiting for you in front of the altar that will be with you for the rest of your life.