SHARKy got "their" catch! ^_^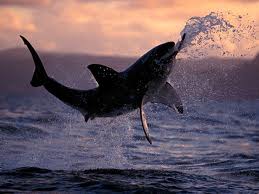 Philippines
August 14, 2012 10:15am CST
Hello people, this is some memory moments to these people.. It was just a regular rainy day on their place, catching fish and stuff. though ordinary the guy video recorded, i think it was her first catch? too bad though some thing else was waiting for that FISH... not a referral link. http://www.youtube.com/watch?v=W5QMUCLqoY4&feature=related they were about to put to the net when the sharky took it first and it scared the lady...

2 responses

• Calgary, Alberta
14 Aug 12
that shark must be trolling, I think the shark decided to steal the catch because its easier "catch" over the fishes who are still free, sharky doesnt need to chase a fish caught by a hook, but this video is shockingly awesome. its like an experience of a lifetime to that fisher woman. That couple is lucky they were not fishing in a boat. Just imagine what could have been.

• Philippines
15 Aug 12
Hello CaptainAlbertWhisker, What scary is that shark lives and swims over their neighborhood full of houses. this makes them dangerous into going to swim and it could cost them their lives and makes this lake not safe for a friendly swim. they were lucky indeed also that it wasn't a bigger shark than that. that was totally unexpected.




• Calgary, Alberta
14 Nov 12
sorry for bumping an old thread but cant help t. I find out that fishing session is not in an ocean but on a river!!! apparently ocean fishes occasionally goes to rivers and can less there for few hours or days but goes back to the ocean before they die for the lack of salt.


• Philippines
15 Aug 12
Hell Rsa101, I wish they could have caught the shark and notify the animal welfare department since they have that kind of agency in United States. that shark is still dangerous for even a puppy for going for a swim. i just can't imagine if they are going to ride the boat and hopeto simply make it to safety.