Do you have such habit wear the chappal according to your dresses?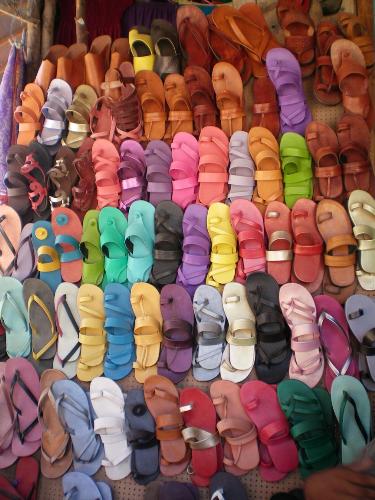 India
August 17, 2012 6:21am CST
I want to say if your dress is blue color means your chappal or sandal color will also blue means matching. Mostly women has such habit not men but few men has also such habit because they can handle all these. Share your view about your chappal management. You gathered lots of chappal or sandal or only one or two pair. I have only two pair.
2 responses

• Malaysia
18 Aug 12
Fanta, i have a few pairs of sandals. By the way, chappal is sandals, right? Because from the photo it looks alike sandals. Although i have a few pairs of sandals but my favorite is the black color. I feel black is easy match with any color dress.

• India
18 Aug 12
No fb chappal is different and sandals and shoes is different. Great you have few pairs of sandals then send me at least one because my sandal is break hahah....

great idea na. Okkk leave black for you and send me other color sandal.

• Philippines
17 Aug 12
I don't have this habit. I only go for black sandals or shoes. They always go with different colors. I guess I'm not that fashionable. I don't like people staring at my outfit. I don't want to feel uncomfortable. Happy nyLotting!

• India
17 Aug 12
I have also no habit and I have only two pair brown and black and I think it is suitable on any color dress or sari.