My favourite clutch bag is damaged :(

Greece
August 21, 2012 2:04pm CST
I was putting an order in my closet this afternoon and I found out that my favourite black leather clutch bag had some white marks on the one side,where the leather was damaged. It's been a while since I had cleaned the mess inside my closet and I just found out. This was my favourite winter bag that I was always wearing at my nights out because I could match it with everything! I've had it for 3 years and it's so sad that it's damaged because I won't be able to find this design again. It seems like it was at the side of the closet and every time I was making a mess in the closet to find something to wear, it was pressed against the corner that my closet has there. So the leather is ripped and it has white marks on it. I guess now I'll have to find another bag that can be matched with everything.
4 responses

• United States
21 Aug 12
Are you sure that it is not possible to clean the purse? White marks are not the same as cuts or scratches. You should take the purse to a shoe repair place and ask them what you can do to save it.

• Greece
22 Aug 12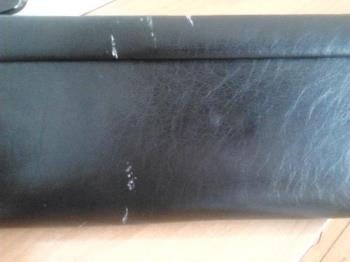 I didn't have time to go today because my mother needed me to go out and take care of a few things for her. But I'll go tomorrow and see what they can do! It was white marks and scratches that were created because it was puched against the wall from different angles probably! This is how it looks like, I am attaching a pic here! The scratches are seen if you look very close, they are below the white marks I am not sure if they are visible in the pic.

• United States
22 Aug 12
I can't see the scratches, but I think the white marks can be removed. If you are successful in restoring it, you should get one of those plastic storage boxes the size of a shoe box to store it in when not in use. You could also use a hat box for storing it, but the plastic box should be easier to find. Be sure to put something inside with it for moisture if you live in a humid clime.

• United States
22 Aug 12
Yes, I think we all have experienced this from time and one of our favorite items gets damaged. A lot of times it can be from use, or being put in the wrong spot, etc. But unless it is noticeable until I have something good to replace the thing with, I usually will continue to use it, and then go from there.

• Greece
23 Aug 12
If it's not easily noticeable I keep it and use it as well!

Sometimes bags get dirty or scratched at the bottom, but I keep using them for years. It's normal to get some scratches because we use our handbags every day and they go through a lot! In this case I can't use it as it is because it's black and the surface of the one side has white marks and scratches so it's noticeable. Thanks for the advice!

• United States
21 Aug 12
I had a purse that I loved and when it finally just fell apart one day I was so sad. I just had to get another one. Well I searched the stores where I live and was not able to find one like it or even one that I liked. So I saved my money and went online looking for it. I looked up the maker and did a search to see if they had any that they were selling online. I was so happy when I finally came across the same purse that I had been searching for. I bought it and have never looked back I also bookmarked their page and when ever I need a replacement I go to the maker first lol. Crazy things that we women will do for a purse that we love. I would search the net and see if you can find one that way. Sometimes people are wanting to sell them for way cheaper than what you would pay the maker for the same thing any way. Just an idea. If there is a tag in the clutch look up the numbers that are on it. Most of the time I can find things that way. Good luck I hope that you are able to find a new clutch just like your old one.

• Greece
21 Aug 12
Thanks for your advice! No there is no tag, but I'll search online based on the brand, maybe I'll be lucky. But first, I will go to the shoe shop that gifts proposed at the comment above, to see if I can fix it. I hope I'll be able to fix it because it's going to be cheaper, and there are so many leather black clutch bags that I don't know if I'll find the same without the unique code, even if it's online somewhere!

• United States
21 Aug 12
The shoe shop here in my town will sew that bag up like new. see if you have one in your area and see if you can fix it.