Taken 2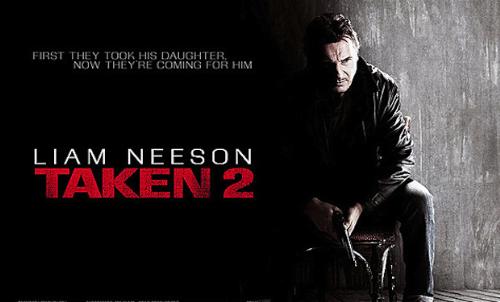 China
August 23, 2012 8:41am CST
I just happened to see the trailer for Taken 2 starring Liam Neeson and could not wait for the release in China. I enjoyed the first episode where Bryan Mills an ex CIA operative took a dangerous mission to rescue his daughter Amanda from an illegal human trafficking ring in Paris, France. Now in Taken 2, the family members of Amanda's kidnappers wants to take Bryan Mills, who is on assignment in Istanbul, Turkey to avenge for their deaths. From the snippet, I feel that this is going to be quite an explosive thriller and hope that it will be better than the previous. Trailer: http://t.cn/zWwsm3z
7 responses

• Malaysia
25 Aug 12
yes..i do hope so that this part 2 will be better or as good as part 1.. cant wait to see it either...

• Malaysia
20 Sep 12
it opens here next week..when it opens in ur city?? cant wait to see it..hopefully it is as good as part 1 or better!,,


• China
24 Aug 12
The first one really made me fall for this movie and a fan of Liam Neeson. The storyline was so original and his way of tracking his daughter was really a feat. I was really captivated and wished that our police would be as dynamic as Bryan Mills in tracking down the missing children that are being sold in China. I can't wait for this movie to be aired here in China.


• China
24 Aug 12
I am eager to watch this movie since this trailer indicated that it is the wife who will be taken. The revenge call at the graveyard just add more suspense to this movie and the wait is really "killing" me. But, I am wondering if he would be able to stop the revenge because if he cannot he will be facing the whole generation of hardcore criminal descendants.


• Philippines
26 Aug 12
I love the first Taken, it's probably one of the most watched movies we have in the office. I've also influenced my partner and now Taken has become one of his favorite movies as well. So now everybody I know are eager and anxiously waiting for the next Taken (2) to be shown in our country.

• Philippines
4 Sep 12
Yes, i loved the first film too, it was definitely action packed. Liam neeson was really good at playing a cia agent.. he was both a good person but h can be very scary.. i am very excited to see the sequel.. i hope there'll be another one.